Washington: Suquamish Tribe Signs Retail Marijuana Compact With State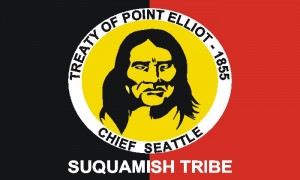 By Steve Elliott
Hemp News
The Washington State Liquor and Cannabis Board (LCB) and the Suquamish Tribe on Tuesday signed what's being called the nation's first state-tribal marijuana compact. The compact governs the production, processing, purchase and sale of marijuana on the Tribe's land in Kitsap County.
The retail store will be located on Highway 305 next to Longhouse Texaco in Suquamish, Washington, and is expected to be open by November, the Tribe's communcation office reported, according to the North Kitsap Herald.
The 10-year agreement was made possible by legislation (HB 2000) enacted during the 2015 legislative session, according to the LCB. The signed compact moves next to Gov. Jay Inslee for approval.
"We believe that working closely with the Suquamish Tribe we can ensure a well-regulated marijuana market that protects the health and safety of Washington State citizens," said Board Chair Jane Rushford. "This agreement is an excellent model for future compacts."
The State recognizes the Suquamish Tribe as a sovereign nation and negotiated the agreement in lieu of licensure by the Board. Per the enacting legislation, a tribal tax equivalent to the state excise tax will be applied to sales to non-tribal customers on Suquamish tribal lands.
"Our Tribe always favors a collaborative and cooperative approach," said Suquamish Tribal Chairman Leonard Forsman. "We believe that our relationship with the State, including this compact, will best serve and protect our tribal community, surrounding neighbors, and residents of the state."
"Our decision to enter into retail operations comes after careful consideration," Forsman said in an announcement released by the Tribe's communications office. "With the passage of I-502, we knew we needed to adapt to the changing environment surrounding our reservation and saw an opportunity to diversify our business operations."
According to Robert McVay, an attorney with the Seattle-based firm Harris Moure, tribes gain certain business advantages by signing a compact with the state.
"The tribal business would gain access to licensed Washington marijuana businesses," McVay blogged back in May. "This is an important consideration, as a lot of tribal land in Washington State is not located in or even near population centers, and those tribes may not be able to support their own retail operations."
"These tribes that are out in the middle of nowhere could do real business as wholesalers, but would struggle if they needed to generate a lot of foot traffic," McVay said. "Additionally, entering into compacts can be a political move. Tribes can also have gaming and cigarette compacts with the state, and a concession on marijuana may lead to gains in other tribal business ventures."
On Aug. 29, 2013, the United States Department of Justice (USDOJ) issued a memorandum setting forth the eight enforcement priorities of the federal government which emphasized preventing access to marijuana by minors, preventing the criminal element from involvement in the industry and preventing diversion of product out of state. On Oct. 28, 2014, the USDOJ clarified in a memo that the same priorities should guide federal enforcement priorities in Indian Country.
Graphic: American Indian Tribal Flags