Tennessee: Hemp Harvest Leaves Farmers Disappointed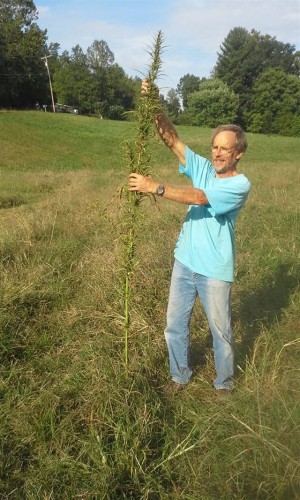 By Steve Elliott
Hemp News
Bureaucratic regulations and a late start hampered hemp farmers in Tennessee this year. The underwhelming return on the first legal hemp crop in 70 years has left them reconsidering their involvement in the state's pilot hemp project.
Legal red tape delayed delivery of the seeds, and then restricted what they can do with the seeds they harvested this year, leaving both Wayne Smith and Randall Ledford feeling like they paid for Tennessee's industrial hemp experiment, reports Nathan Baker at the Johnson City Press.
Smith, after finally receiving his seeds in June, planted three pounds. He harvested 10 pounds of seeds this month, but said he'd likely have had a much bigger yield if he'd gotten the seeds in April, when crops are normally planted.
Smith paid the state $254 for the permit to grow hemp. A buyer he contacted offered 70 cents a pound for the seeds -- a total of $7.
"I'm still pretty floored," he said. "I'm going to use the harvested seed to make oil and maybe sell it as a novelty item."
Ledford said he planted all 27.5 pounds of seeds he got from the state. He harvested 42 pounds of seeds, and said he believes one of his plants, at 7.5 feet tall, was the tallest in the state.
"Everybody's so depressed," he said. "Unless something drastic happens, there's no way I'll do it again next year. There are just too many regulations, too much B.S."
Ledford said none of the seeds he grew can leave his property in viable form so that they could grow another plant -- unless he takes the 70-cent per pound offer. He said he spoke with a few potential buyers, but he could face federal marijuana trafficking charges if he transports hemp seeds out of state.
He also had to pay for two state inspections of his plants -- at $35 per hour, including travel time -- and $175 for each lab test for THC content to make sure he wasn't growing illegal, high-THC marijuana.
The state is still collecting data and feedback from the pilot program farmers, according to Corinne Gould, director of communications for the Kentucky Department of Agriculture. A report is due in November.
"Anecdotally, like the other crops in Tennessee, growers have had varying degrees of success," Gould said. "We've seen variation according to location, some areas have been dry, some wet, and we've also seen variation among individual producers."
Gould said the state had selected one variety this year that is best suited for seed production, but next year, different seed varieties, or varieties that can be harvested for hemp fiber, could be available.
The federal 2014 Farm Bill allowed industrial hemp to be grown for research purposes, if a state approved. The Tennessee Legislature approved a pilot hemp farming project last year.
Forty-six Tennessee farmers applied to receive the seeds through the state this year for the pilot project, designed to determine the plant's viability as a cash crop. Of course, even a crop as economically viable as hemp can he hampered with over-regulation and late planting.
Photo of a neighbor with farmer Randall Ledford's 7.5-foot hemp plant: Johnson City Press