U.S.: Willie Nelson's New Marijuana Brand Willie's Reserve Gets Funding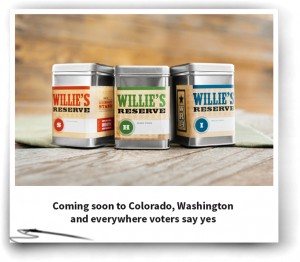 By Steve Elliott
Hemp News
Country music legend Willie Nelson is teaming up with private investors looking to cash in on a celebrity-endorsed brand of marijuana.
Tuatara Capital, a New York-based private equity firm, this wee announced its partnershipwith Nelson, 81, known for such standards as "Always On My Mind" and "On The Road Again," as well as for his well-documented fondness for cannabis, reports Tom Huddleston, Jr., at TIME.
Under the partnership, Tuatara will lead a group of investors financing the development of a legal recreational marijuana brand featuring Nelson's name and likeness.
"Willie's Reserve" will be a "premium cannabis lifestyle brand" for recreational marijuana users in states where it is legal, starting with Colorado and Washington "and also other states as regulations allow." Local businesses in those states will grow, distribute, and sell Willie's Reserve marijuana based on the brand's specifications and "quality standards," according to a press release from Tuatara and Nelson.
"I hear stories from people across the country about how the end of marijuana prohibition is improving their lives," Nelson said. "Legal marijuana makes sense. Good business will prove it can work in America," said Nelson.
Tuatara launched just last year, and the partnership with Nelson marks its first investment, reports Thomas Dunford at The Wall Street Journal. The firm plans to focus on marijuana-related investments. Tuatara had raised $25.8 million toward its debut fund by the end of July, according to a filing with the Securities and Exchange Commission.
"We're really excited to partner with someone like Willie, who embodies the spirit of American entrepreneurship and conviction to a cause," said Tuatara Chief Investment Officer Al Foreman. According to Foreman, Tuatara was introduced as a possible financial sponsor several months ago to the Willie's Reserve team.
"We're looking for teams that have built companies previously," Foreman said. "We're not really focused on early-stage risk with this industry. Our goal is to support the types of operators and high-quality teams that have established businesses and who know the compliance environment."
"There is so much innovation happening in the cannabis space, and we are excited about the future prospects of the industry," said Mark Zittman, Chairman of Tuatara Capital. "We see incredible potential to support the industry in its growth and evolution. It's all happening at unprecedented speed."
Nelson announced earlier this year that he'd be marketing his own recreational cannabis brand, telling The Guardian, "I've bought a lot of pot over the years, and now I'm going to sell some back."
Last year, Privateer Holdings, another cannabis-focused investment firm, announced a partnership with the family of the late Bob Marley to create a line of branded marijuana and related products called Marley Natural. Privateer earlier this year closed a $75 million funding round with the support of Founders Fund, the firm cofounded by early Facebook backer Peter Thiel.
Meanwhile, rapper Snoop Dogg is also director of an investment fund, Casa Verde Capital, that is reportedly looking to raise $25 million to investment in the cannabis industry.