Maryland: Attorney General Says Counties Can't Ban Medical Marijuana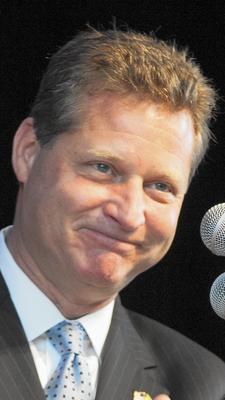 By Steve Elliott
Hemp News
For some odd reason, Republican Anne Arundel County Executive Steve Schuh is on a mission to prevent medical marijuana patients from having safe access to their medicine -- despite the fact that it's now legal in Maryland.
Schuh this week vowed to press forward with an effort to prohibit medical marijuana facilities in the county despite a letter from the Maryland Attorney General's Office stating that counties cannot ban operations allowed by state law, reports Rema Rahman at The Baltimore Sun.
The bill backed by Schuh would prohibit not only dispensaries but even individual patients from growing, processing or dispensing medical marijuana in all zoning classifications.
The advice was issued on Tuesday by the Attorney General's Office in response to a Democratic Baltimore County state senator who slammed Schuh's plan to ban safe access.
The nonbinding legal advice, signed by Assistant Attorney General Kathryn Rowe, says state law allows counties to decide where medical marijuana may be grown, processed and dispensed, but does not permit local jurisdictions to outright ban facilities "unless a situation unique to that county makes one or more types of facilities inappropriate."
"This would require a showing that there are factors in that jurisdiction that would differentiate it from the remainder of the state," Assistant Attorney General Rowe wrote. "As a rule, counties have broad zoning powers. These powers do not, however, necessarily include the authority to zone in such a way that activities that are licensed under state law are effectively barred from the county."
Schuh claimed language in the state law is "loose" and could allow an increse in recreational use of marijuana. He also tut-tutted over the amount patients will be allowed to obtain over 30 days.
Under Maryland's medicinal cannabis law, patients can get up to four ounces, and Schuh claims that could lead to more robberies and crimes.
Sen. Bobby Zirkin (D-Baltimore County), who opposes Schuh's plan, is chairman of the Senate Judicial Proceedings Committee, and requested the attorney general's opinion after learning about Schuh's unyielding stance.
Zirkin criticized the potential prohibition on medical marijuana in a guest column in The Capital last week, calling it "both disappointing and baffling." Schuh's "stance is ludicrous on its face and should not be permitted to stand," Sen. Zirkin wrote.
Zirkin said on Tuesday he still intends to introduce a bill next year to prevent local officials like Schuh from making proposals to ban medical marijuana. The senator said that due to broad bipartisan support for safe access to medicinal cannabis for sick people -- including unanimous support by Anne Arundel County's delegation this year -- he didn't think a local official would go as far as Schuh did to prevent patients from accessing legal medicine.
Gregory Swain, the senior assistant county attorney who drafted Schuh's bill, claimed the bill doesn't "ban" medical marijuana, it just prevents those operations from being allowed in all of the county's zoning classifications.
What that statement means, other than possibly being the dumbest thing I've read today, is that patients in Anne Arundel County would have to get their cannabis from another county. Great! Impose additional travel on people who are already seriously ill. The humanitarian compassion of these bozos is just overwhelming, isn't it?
There is, however, another bill, an alternative to Schuh's which would limit where medical cannabis facilities can be located, but not completely ban them. Sponsored by three council members, Chris Trumbauer (D-Annapolis), Andrew Pruski (D-Gambrills) and Council Chairman Jerry Walker (R-Crofton), the bill would bar growing, processing and dispensing of medicinal cannabis within 1,000 feet of schools, and limit dispensaries from operating within 2,500 feet of each other.
Similar rules were approved by the Baltimore City Council this month, but the proposed regulations in Anne Arundel County would double the distance from schools. Trumbauer said he used Baltimore County's bill as a starting point, since he wanted an alternative to Schuh's bill so the county could regulate rather than completely eliminate medical marijuana dispensaries.
All seven council members were either hesitant about Schuh's ban or expressed disapproval of it. Both bills are scheduled to be heard by the council in Annapolis on October 19.
Photo of Anne Arundel County Executive Steve Schuh: Matthew Cole/Baltimore Sun Media Group