U.S.: 90+ Celebs Join 130,000 Americans Demanding Criminal Justice Reform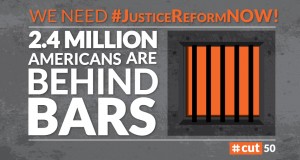 Amy Schumer, Steph Curry, Ed Norton, Jesse Williams, Chris Pine, Russell Simmons, and Piper Kerman are among 90+ celebrities calling for reform to our criminal justice system -- a call sounded by #cut50, a bipartisan effort to safely and smartly reduce our incarcerated population by 50 percent over the next 10 years.
The historic campaign comes on the heels of major bipartisan legislation in Congress. Last week, an all-star group of Senators including Chuck Grassley (R-IaA) and Cory Booker (D-NJ) came together to begin rolling back mass incarceration with the Sentencing Reform and Corrections Act. In the House, the SAFE Justice Act has been called the most comprehensive justice reform legislation in decades.
President Obama said late last week that he was "optimistic that members on both sides of the aisle, in both houses… can put a meaningful criminal justice reform bill on my desk before the end of this year."
For the first time, major celebrities are petitioning Congress to pass a meaningful criminal justice reform bill and roll back the incarceration industry in America.
Poll after poll shows that the majority of American people, of all political persuasions, agree - it is time to fix our broken justice system.
The #JusticeReformNOW petition, organized by #cut50, has received more than 130,000 total signatures collected across multiple petitions hosted on Care2, Credo Working Assets, MoveOn & a recently launched petition at Change.org/JusticeReformNOW - all petitions call for a comprehensive, criminal justice reform bill this year.
Now, leading public figures are voicing their support.
"The moment to pass a meaningful bill is now -- before the 2016 elections complicate any bipartisan efforts," said Van Jones, co-founder of #cut50, which is an initiative of the Dream Corps.
"Like many of the artists and entertainers speaking out on this issue today, I have seen the terrible failure of the War on Drugs firsthand, especially in communities of color," said Russell Simmons, CEO of Rush Communications. "It is time that Republicans and Democrats work together in Washington to fix this broken system. Their leadership must inspire states across the country to take action, so we can end mass incarceration, once and for all."
"Lives won't change until laws change," said Piper Kerman, author of Orange is the New Black: My Year in a Women's Prison. "There are too many Americans immobilized behind bars for no good public safety reason - not able to be with their families or contribute to their communities.
"People deserve a second chance, so they can fulfill their potential and take care of their responsibilities," Kerman said. "It's essential that we take the necessary policy steps to make this possible."
"In the past 8 years working in the criminal justice system I have come to realize that we spend way too much money incarcerating non-violent offenders," said Tim Robbins, actor, director and activist. "We can and must do better as a society and a nation."
"Many of us, especially in the hip-hop community, have long used music and art to raise awareness and understanding about the ways in which our communities have been failed by the criminal justice system," said Angie Martinez, multimedia personality and Power 105 radio host. "With 2.4 million people incarcerated in America, and a real opportunity for change, we're ready to to turn up the volume. Whatever we can do to use our respective voices and platforms to demand justice reform, we are prepared to do that."
"The devastating and undeniable fact is, the American prison industry locks up too many people, unnecessarily and for too long," said Jesse Williams, star of ABC's hit series Grey's Anatomy, board member for the Advancement Project and executive producer of Question Bridge. "Every year, we waste an astonishing amount of public and human resources while ruining countless lives and devastating communities. It's time to rethink our approach: It's time for justice reform, now."
Monday, October 5, has been declared a national "day of action" for criminal justice reform by #cut50. Celebrities, political leaders, concerned Americans and cultural leaders will be taking to social media to spotlight both parties' opportunity to take legislative action now.
"Our broken criminal justice system harms more than it helps and wastes $80 billion a year," said Van Jones. "Americans are ready to fix it. Now it's up to the national leaders in both parties to answer this call by passing strong federal legislation."
#cut50 believes urgent action is needed to pass meaningful legislation through Congress and give President Obama a bill to sign before the end of the year.
The petition can be found at JusticeReformNow.org and current roster of celebrity signers is below:
Adrian Grenier
Affion Crockett
Alfre Woodard
Alicia Silverstone
Amy Schumer
Angie Martinez
Annalynne McCord
Arsenio Hall
Ashley Judd
Audra McDonald
Boris Kodjoe
Brendon Ayanbadejo
Carrie Keagan
Cedric The Entertainer
Charlamagne
Chloe Flowers
Chris Pine
Chris Kluwe
Christy Turlington
Debbie Allen
Deepak Chopra
DL Hughley
Dule Hill
Edward Norton
Eliza Dushku
Emily Deschanel
Gabourey Sidibe
George Lopez
Gina Prince Bythewood
Hill Harper
Jesse Williams
Jessica Chastain
Jill Scott
Joakim Noah
Joe Rogan
John Forte
Judd Apatow
Julianne Moore
Juliette Lewis
Jussie Smollet
Kelly Slater
Kenny Hamilton
Kenny Smith
Laverne Cox
Luis Guzman
Malik Yoba
Margaret Cho
Mark Ruffalo
Marlon Wayans
Matt McGorry
Maxwell
Melanie Fiona
Michael Beaden
Michael Ealy
Michael K Williams
Michael Sam
Michael Skolnik*
Michelle Williams
Mike Epps
Moby
Morgan Spurlock
Nick Cannon
Nipsey Hussle
Norman Lear
Octavia Spencer
Omar Epps
Quincy Jones
Raegan Gomez
Reggie Bush
Richard Branson
Rick Warren
Ricki Lake
Rosie O'Donnell
Russell Brand
Russell Peters
Russell Simmons
Samantha Ronson
Sanaa Lathan
Sean "Diddy" Combs
Selita Ebanks
Shepard Fairey
Shonda Rhimes
Stacy Barthe
Steph Curry
Susan Sarandon
Tamar Braxton
Taryn Manning
Tatyana Ali
Tim Robbins
Tonya Pinkins
Tyrese Gibson
Van Jones
Vivica Fox
Wayne Brady
Will.I.Am
Zac Posen
###
#cut50 is an initiative of the Dream Corps. #cut50 works across party lines to safely and smartly reduce America's incarcerated population by 50 percent over the next 10 years. For more information visit www.cut50.org