Illinois: Legal Medical Marijuana Smells Like Money And Jobs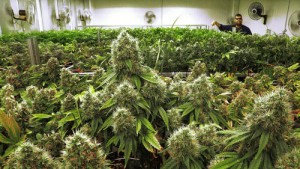 By Steve Elliott
Hemp News
The skunky aroma of marijuana in a rural southeastern Illinois town isn't a source of complaints... in fact, to most residents, it smells like money and jobs.
It's almost harvest timer in the historic town of Albion, which means a new farmland ritual is beginning amid the surrounding cornfields, reports Carla K. Johnson at the Associated Press.
Ataraxia is one of a handful of cultivation centers in Illinois, and it's the first to complete a gauntlet of state requirements. Stores in Albion can't sell liquor, but marijuana has been welcomed as a badly needed source of employment.
A t-shirt for sale in town makes light of the odd juxtaposition: it says Albion is "High and Dry." That's OK; marijuana's safer than alcohol!
"It's brought our little town to life," said Cheryl Taylor, who sells the shirts at her shop on the square.
The history-making cannabis crop is being cut and dried behind the locked doors of a giant warehouse down a country road, behind the New Holland tractor dealer and the Pioneer seed plant. By mid-October, strains including Blue Dream, OG Kush, Death Star and White Poison will be turned into oils, creams, flowers for smoking, and edibles.
Iliinois' highly restrictive medicinal cannabis program is meant to avoid easy access. Until the state in late September gave approval for AP to tour the facility, only company workers and government inspectors had been allowed inside the warehouse.
Albion, a community of 1,900, has embraced the change.
"It's a good thing for the local economy," said Doug Raber, an insurance salesman. "This is a pretty conservative area. Any kind of revenue we can get here is good."
Ataxia CEO George Archos said he wants to hire 50 or 60 people, but so far, only seven employees, aside from managers, are on the permanent payroll. With just 3,000 approved medical marijuana patients in the state, the company can't expand d yet.