Massachusetts: Doctors Use Marijuana As Opioid Substitute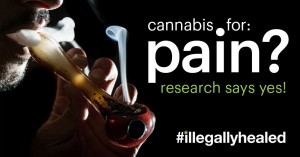 By Steve Elliott
Hemp News
Hundreds of opioid addicts in Massachusetts are being treated with medical marijuana, and advocates say the new therapy is a life-changing alternative to the deadly epidemic of painkiller addiction.
"We have a statewide epidemic of opioid deaths," said Dr. Gary Witman of Canna Care Docs, which issues medicinal cannabis authorizations in seven states, and has nine clinics in Massachusetts, reports Chris Villani at the Boston Herald. "As soon as we can get people off opioids to a nonaddicting substance -- and medicinal marijuana is nonaddicting -- I think it would dramatically improve the amount of opioid deaths."
Witman said he's treated about 80 patients who were addicted to opioid painkillers, muscle relaxers or anti-anxiety pharmaceuticals, using cannabis with a one-month tapering program. More than 75 percent of those patients stopped taking the harder drugs, according to Witman.
Cannabis can treat the symptoms patients had been using opioids and other drugs to manage, such as chronic pain or anxiety, and treat them far more safely, Witman said.
Dr. Harold Altvater of Delta 9 Medical Consulting in Malden, Mass., agreed that he's also seen success with medicinal cannabis as a substitution therapy. "You are basically taking something that can be very harmful for an individual, and substituting with another chemical, just like you would with any other drug, that has a wider safety margin," he said.
"What we are seeing is that, in follow-up visits, patients have decreased and even eliminated their opioids," said Dr. Uma Dhanabalan of Uplifting Health and Wellness in Natick, adding cannabis works far better than other alternatives. "It's a problem when we are replacing one synthetic opioid with another synthetic opioid because, guess what … synthetic opioids kill, cannabis does not."
Medical cannabis works on the neurological level on what is known as the "endocannabinoid system," the ECS, binding to neurological receptors involved in appetite, pain, sensation, moody and memory. Opioids work less effectively, Witman said.
"Endocannbinoids are even more powerful and the therapeutic benefits are even better," he said.
After four back surgeries, Howard Bart, a patient at Dhanabalan's clinic, knew very little about medicinal cannabis before his wife researched it online. He said it's been a life-changer for him.
"The marijuana saved my bacon from discomfort and pain every time," Bart said. "My doctor told me it has something to do with receptors. All I know is, it works."
Graphic: Illegally Healed