Colorado: Marijuana Sales Top $100 Million In August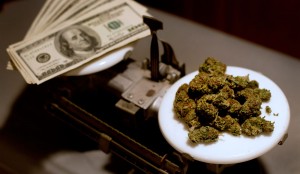 By Steve Elliott
Hemp News
Cannabis sales surpassed the $100 million mark in August for the first time ever in Colorado, according to recreational and medical marijuana sales data released on Friday by the state Department of Revenue.
Marijuana sales once again eclipsed the previous month's numbers, with recreational cannabis racking up $59.2 million in sales and medical marijuana getting $41.4 million, reports Elizabeth Hernandez at The Denver Post.
The combined $100.6 million in cannabis sales continues the 2015 trend of month-to-month record-setting.
"It means that $100 million is going to licensed, taxpaying businesses, creating jobs and helping to build new schools, instead of going to cartels and drug dealers -- as is the case in the 46 states that don't regulate marijuana," said Dan Riffle, director of federal polices for the Marijuana Policy Project (MPP).
Legal recreational cannabis sales began on January 1, 2014, in Colorado, which was the first state to launch a retail cannabis program. There were $46.4 million in total sales that month, with $14.7 million in recreational and $32.2 million in medicinal sales. August 2014 was the first month when recreational sales exceeded medical sales.
Colorado taxes recreational marijuana three ways: the standard 2.9 percent sales tax; a special 10 percent marijuana sales tax, and a 15 percent excise tax on wholesale cannabis transfers. Colorado in August collected $11.2 million in recreational taxes and fees, and $2 million in medical taxes and fees, bringing the 2015 cumulative total to nearly $86.7 million. The total for 2014 was $76.2 million.
The 15 percent excise tax that is earmarked for school construction projects brought in $3.3 million in August, up from $3.1 million in July.
Oregon, which began recreational sales on October 1, had $11 million worth of marijuana sales in the first week. In contrast, Colorado's first week of legal sales reached $5 million.
Photo: Lotus Cannabis