U.S.: Hempseed Oil Production Hobbled By Low THC Limits; Energy Independence Beckons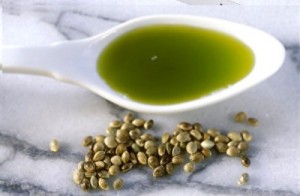 By Steve Elliott
Hemp News
What if I told you that every legal hemp field in the world is being artificially limited in its productivity?
According to hemp expert Paul Stanford, high-THC varieties of cannabis can substantially outproduce low-THC hemp varieties when it comes to both hempseed oil production (which can be used both as fuel, and as a food source with important proteins and essential fatty acids, EFAs) and also for hemp fiber production.
Stanford, of the Campaign for the Restoration and Regulation of Hemp (CRRH, which owns Hemp News) wants a study to quantify just how much more productive fields of high THC cannabis could be for both hempseed oil and fiber.
"I've been working to get a graduate student at Oregon State University to help us quantify high THC hemp production," Stanford told Hemp News on Friday. "I talked to the student; we went to her professor; her professor ran it up the flagpole and eventually got to the President's office at OSU.
"They said you can't do studies on industrial hemp, because it's illegal under federal law and because that OSU could be in danger of losing its land grant college status," Stanford said. "I was told there are only 10 or 11 federal land grant universities and colleges in the United States, and that they were afraid they'd lose that federal funding because hemp violates federal law.
"I never got to talk to them about this, but they are mistaken about this being a violation of federal law, because federal law directly allows them to regulate industrial hemp and medical marijuana," Stanford said. "Those two things are not in direct contradiction of federal law."
According to Stanford, Section 903 of Title 21, the federal Uniform Controlled Substances Act, says that federal law does not impede the states from having jurisdiction over marijuana, and that federal law is secondary.
"Normally you hear this argument over and over again, that federal law trumps state law, which is true in most cases," Stanford told us. "But in this case, Title 21, Section 903, says that states have the right to regulate medical practices and pharmaceuticals unless there is a conflict. Industrial hemp is excluded from the Controlled Substances Act."
Additionally, Stanford pointed out, the new Farm Bill had language inserted in it specifically allowing industrial hemp research at universities.
"Thanks to the leaders of the Oregon Congressional delegation, the federal 2014 Farm Bill provided important authority regarding hemp research," said Steve Clark, OSU vice president for University Relations and Marketing. "A provision in the bill enables higher education institutions to conduct industrial hemp research if the institution is located in a state in which industrial hemp production is legal."
Now faculty at OSU's College of Agricultural Sciences have just submitted an application to the federal Drug Enforcement Administration (DEA) seeking permission to conduct industrial hemp research. OSU faculty members believe there is interest within the state to promote the crop's agricultural and economic opportunities.
Jay Noller, head of the crop and soil science department in the College of Agricultural Sciences at OSU, said the university hopes to secure approval from the DEA and the Oregon Department of Agriculture to begin approved industrial hemp research trials for the 2016 growing season. The research likely would focus on learning more about the crop's productivity, yield and growing conditions in western Oregon.
"We still need to secure funding for the research once the other hurdles are cleared," Noller said. OSU expects that the results of peer-reviewed research regarding industrial hemp will be available in three to five years and that research planned over that time frame will require as much as $2.5 million in funding.
How High THC Hempseed Oil Production Can Change The World
"So we have this project to basically quantify high THC hempseed production," Stanford said. "It's never really been about drugs; drugs are a smokescreen. It's always been about money and power, particularly the petrochemical industry. As long as they prohibit hemp production even from plants which contain hardly any THC at all, and certainly from high THC plants, they are protecting the petroleum industry."
"Probably people at the time the marijuana laws were implemented didn't realized this," Stanford said. "Probably many don't realize it today, but many do. If we institute hemp as a fuel, food and medicine crop, we'll have plentiful fuel, food and medicine for all. The petrochemical and pharmaceutical industries are afraid of that, even though doctors -- the American Medical Association -- opposed marijuana prohibition when it first came in, in 1937."
"We have been working on setting up this study, and I believe if we could do it; basically a study has to take at least three years," Stanford said. "We want to quantify the hempseed oil production of high THC strains I've developed, which are very productive strains. So far we've been stymied our our attempts to get this study off the ground because of this problem at OSU."
According to Stanford, he's working with the agricultural college in Uruguay (where hemp and cannabis are legal) to go ahead with the program, with the assistance of OSU professor Andrea Herman, who has taught a hemp-centered course for five years now.
"It's something like a 20-class course, and they came in and said one of those classes she can't teach anymore because of federal law; she thinks that is ridiculous," Stanford said of Professor Herman.
"Hemp could change the entire agricultural paradigm across the world, because farmers will have a very valuable energy corp to replace petroleum, which is carbon negative," Stanford said. "That's why we need to show how much hempseed high-THC cannabis can produce."
According to Stanford, one study showed that feral hemp can produce 8,000 pounds of seed per acre. "That's almost 15 times the amount produced in Canadian hemp fields, which produce 6000 pounds of seeds per acre with low-THC hemp, which I call dwarf hemp," Stanford said.
"But if we produce a high-THC variety and try to get the maximum seed production out of those, I believe that number could be substantially higher than with the feral hemp plants," he said. "With modern agricultural techniques, we could get 20 or 30 times as much seed production as Canada's hemp fields."
"We want to do this study, and I think the study has the potential to change the energy paradigm of the world," Stanford said. "So far we've been blocked by federal law and OSU believing that federal law stops them from studying hemp. I say they're mistaken; they don't realize Section 903 of the Controlled Substances Act says state law takes precedence when it comes to drug control."
If hemp produces 8,000 pounds of seed per acre, according to Stanford, that equals roughly 300 gallons of hempseed oil per acre. "Well, the most productive seed oil crops are soybeans, rapeseed (canola oil) and sunflowers, each producing 100 to 115 gallons per acre," he said. "So if this number from the feral study is correct -- and I believe we can do quite a bit better -- then it's three times more productive than any other seed oil crop.
"That means we could produce it a lot cheaper than petroleum," Stanford pointed out. "The food and fiber production are a lot higher, as well. So we can harvest food, fuel, fiber, medicine, and adult social flowers all from the same crop.
"That is going to change the entire economic paradigm of the whole world," Stanford said.
"You and I can't compete with the petroleum industry," Stanford said. "It takes billions of dollars to build a refinery these days. But a hempseed press costs $2,000, and any farmer can press hempseed oil for the market and produce at least 300 gallons per acre."
"As long as we're using low-THC hemp, it doesn't compare," Stanford said. "But if we take away the THC restrictions from industrial hemp-- when we can grow high-THC cannabis for hempseed production -- that is going to allow farmers to produce several more times the fuel of other crops, in addition to the food, fiber, medicine, and ancillary products for adult social use."
"If we're making fuel out of hemp, ALL the rest of this stuff becomes ancillary products," Stanford pointed out. "This can change the paradigm if we can get farmers to adopt it.
"It will completely decentralize economic control, and put the power in the hands of the masses instead of in the hands of the wealthy where it is now," Stanford said. "That's why marijuana prohibition has always been about money and power -- specifically, the petrochemical industry."
"My goal is to do this study and show that high-THC cannabis can produce even more seed oil protein and fiber than low-THC hemp, and therefore we don't have to use petroleum," Stanford told us.
"If we can do this study, it can change the world."
Photo: Dazeyhemp