U.S.: DEA Chief Called Medical Marijuana A Joke; Patients Calling For His Resignation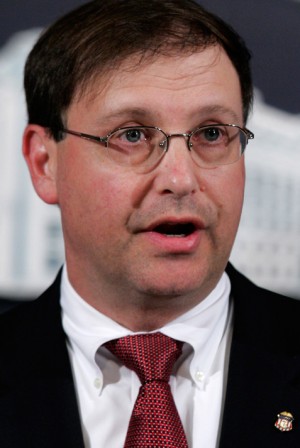 By Steve Elliott
Hemp News
Last week, acting administrator Chuck Rosenberg of the Drug Enforcement Administration called medical marijuana "a joke" while talking with reporters. Medicinal cannabis patients are now calling for Rosenberg's resignation, with an online petition getting more than 16,000 signatures on Change.org.
"What really bothers me is the notion that marijuana is also medicinal -- because it's not," Rosenberg said in a Q&A with reporters, reports Christopher Ingraham at The Washington Post. "We can have an intellectually honest debate about whether we should legalize something that is bad and dangerous, but don't call it medicine -- that is a joke."
"There are pieces of marijuana -- extracts or constituents or component parts -- that have great promise" medicinally, he said, obeying his masters in Big Pharma who seem to want to market individual cannabinoids, but not the whole, organic plant itself. "But if you talk about smoking the leaf of marijuana -- which is what people are talking about when they talk about medicinal marijuana -- it has never been shown to be safe or effective as a medicine."
Rosenberg's argument that smoking marijuana "has never been shown to be safe or effective as a medicine" has been contradicted by numerous scientific studies. A meta-analysis of 79 medical marijuana studies involving 6,462 patients, published in the Journal of the American Medical Association (JAMA) earlier this year, found "moderate-quality evidence to support the use of cannabinoids for the treatment of chronic pain and spasticity." There was low-quality evidence suggesting marijuana had therapeutic applications for other conditions as well, according to JAMA.
Marijuana's promise for pain control is important, since pharmaceutical painkillers don't just kill pain, they also, all too often, kill patients. More than 16,000 people died of opioid overdoses in 2013, according to the CDC. Studies have found that the availability of medicinal cannabis at the state level is associated with a significant reduction in painkiller abuse and overdose deaths
The federal government officially considers marijuana a Schedule I controlled substance, by definition meaning it has "http://www.deadiversion.usdoj.gov/schedules/">no medical value and a high potential for abuse. But most researchers long ago rejected this claim, with the Brookings Institution, the aAmerican Medical Association, and the ACLU arguing that the Schedule I designation is inappropriate and indefensible.
"My mom is a legal patient in Rhode Island, and she uses medical marijuana to deal with the severe pain she experiences from multiple sclerosis," said Tom Angell, chairman of Marijuana Majority, which started the Change.org petition demanding Rosenberg's resignation. "Medical cannabis is no joke to my family or the millions of other American families who have seen its real benefits."
"To clarify, Acting Administrator Rosenberg indicated that marijuana should be subject to the same levels of approval and scrutiny as any other substance intended for use as a medicine," a harried DEA bureaucrat emailed in a vain attempt to spin Rosenberg's faux pax. "DEA supports efforts to research potential medical uses of marijuana. To this end, DEA has never denied a registration request from anyone conducting marijuana research using FDA approved protocols," the spokesman lied.
Rock star Melissa Etheridge joined calls for Rosenberg's resignation with a Twitter post supporting the Change.org petition.
Photo of Chuck Rosenberg: Charles Dharapak/AP