New Hampshire: Thursday Hearing Set For Terminal Cancer Patient Seeking Medical Marijuana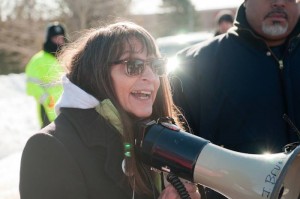 Merrimack County Superior Court will hold a hearing this week on a lawsuit against New Hampshire Commissioner of Health and Human Services Nicholas Toumpas filed by a terminal cancer patient seeking access to medical marijuana.
Linda Horan of Alstead, who is suffering from Stage 4 lung cancer, filed a pre-registration application to participate in New Hampshire's medical marijuana program after receiving approval from all five of her physicians. She wants to receive a medical marijuana ID card that will allow her to obtain medical marijuana legally in Maine and protect her from arrest and prosecution in New Hampshire.
A lawsuit asking that she be able to do so was filed by her attorneys on November 5.
The hearing for an "expedited temporary order" will take place at 10 a.m. on Thursday, November 12, at the Merrimack County Courthouse.
Gov. Maggie Hassan signed New Hampshire's medical marijuana program into law on July 23, 2013, but patients are still at risk of arrest and prosecution because program ID cards have not been issued. Horan pled her case directly to Gov. Hassan on September 7 after receiving a lifetime achievement award during the New Hampshire AFL-CIO Labor Day Breakfast.
A video of her statement is available at https://youtu.be/KNj_SwYtWe8?t=3m20s.
When: Thursday, November 12, 10 a.m. ET
Where: Merrimack County Courthouse, 163 N. Main St., Concord
Who: Linda Horan, Alstead woman with Stage 4 lung cancer
Paul Twomey, Ms. Horan's attorney
Photo of Linda Horan: InDepthNH