Alabama: Epileptic Mom Who Used Medical Marijuana Raising Funds To Fight Charges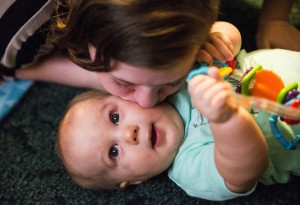 Mother Faces Up To 10 Years In Prison For Using Marijuana While Pregnant Rather Than Big Pharma Drug Which Causes Birth Defects
By Steve Elliott
Hemp News
An Alabama mother who faces up to 10 years in prison after using marijuana to treat her seizures while pregnant has started a funding campaign for her criminal defense.
Katie Darovitz, 25, of Russell County, suffers from epilepsy severe enough to keep her from driving or holding a job, reports Amy Yurkanin at Al.com. When she learned she was pregnant, she stopped taking her anti-epilepsy drugs -- which have been linked to birth defects -- and instead began using marijuana to prevent seizures.
For making the safest decision for her unborn child, she was arrested a couple of weeks after the December 2014 birth of her son after they both tested positive for marijuana. Alabama is one of a handful of backwards states where mothers can be prosecuted for "exposing a child to illicit drugs" under the state's "chemical endangerment of a child" law, simply for using a harmless, non-toxic, even healthful herb.
Marijuana is the substance most often cited in indictments and arrest reports for women arrested for drug use during pregnancy in Alabama, according to analysis of almost 500 criminal cases by Al.com and ProPublica. Darovitz faces up to a decade in prison if convicted.
Advocates for her family have found two out-of-state lawyers to work on Darovitz's criminal and child custody cases, but they need a local attorney to help. The out-of-state attorneys are working for free, but the family still needs money to pay for travel and other expenses.
The family seeks up to $15,000 for legal expenses, and has started a GoFundMe campaign.
Darovitz's mother-in-law, Debi Word, has reached out to local lawyers; one attorney didn't want to take the case and urged Darovitz to take a plea deal. But that deal would saddle the young mother with hefty court fees each month, according to Word.
"This is such an injustice," Word said. "And I can't imagine her going to prison for trying to protect her baby."
The stress of facing a lengthy prison term is taking its toll on Darovitz's health, according to Word. The young mother's seizures have intensified, and marijuana is the only treatment that keeps them under control, she said. If Darovitz enters a drug treatment court, she wouldn't be allowed to use marijuana to treat her seizures, because medical marijuana isn't yet legal in Alabama.
The family believes a jury won't convict Darovitz if they hear her story. Expert witnesses who have researched the use of cannabis during pregnancy have agreed to testify in the trial. Some studies have shown babies of marijuana-smoking mothers are healthier and score higher on cognition tests than babies of mothers who smoked nothing at all and didn't use drugs.
"This has been very stressful and I hope it just goes away, because all I was doing was trying to protect my son and keep myself alive," Darovitz said. "And I really hope I can see my son's first birthday."
Photo: Will Bishop has suffered no health effects from his mother's use of marijuana to treat her epileptic seizures during her pregnancy.Grant Blankenship/Al.com