Tennessee: Medical Marijuana Supporters Hope To Embolden Legislature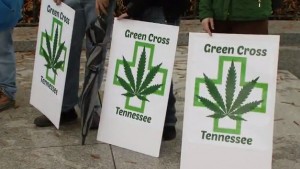 By Steve Elliott
Hemp News
Half a dozen medical marijuana supporters last week gathered on Legislative Plaza in Nashville holding signs saying "Green Cross Tennessee." The group advocates medicinal cannabis awareness in the state, and hope to embolden Tennessee lawmakers to provide safe access for patients who need the herb.
On Tuesday a legislative hearing in the Tennessee Senate Health and Welfare Committee focused on what will become a new version of Senate Bill 1248, sponsored by Nashville physician and state Senator Steve Dickerson, reports Chris Bundgaard at WKRN.
"I am not the stereotype that has been created," said retired Nashville financial advisor Paul Kuhn just before the hearing. "There are millions of us out there. I am a long time supporter of marijuana law reform. I have seen it help patients like my late wife when legal medications failed completely."
Kuhn's name has been attached to a failed medical marijuana bill in past years. On Tuesday he was back with many other medicinal cannabis advocates on Tennessee's Capitol Hill for a hearing on a bill which will be introduced next legislative session.
The measure is expected to allow limited, non-smoking use of cannabis oil and capsules for conditions such as cancer, multiple sclerosis and epilepsy.
"Nine months ago, I stood in front of you and told you authoritatively there is clinical benefit," said senator and physician Dickerson. "There are patients who have illnesses and diseases in our state who are being under-treated."
Predictably, pot-hating law enforcement officers were quick to offer an opinion, despite their complete lack of medical knowledge and ignorance and the benefits of cannabis. "The whole concept of medical marijuana from a legal perspective is being abused and there are a number of issues with the card that folks are issued," claimed Brentwood Police Chief Jeff Hughes.