Uruguay: 3 Types Of Marijuana To Be Available In Pharmacies Next Year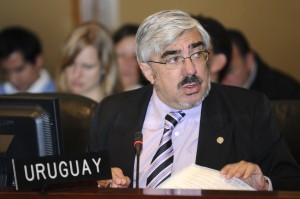 By Steve Elliott
Hemp News
Adults in Uruguay will be able to choose from three varieties of marijuana when it starts being sold in state-licensed pharmacies next year, the National Drug Board announced on Saturday.
Each strain will have different levels of tetrahydrocannabinol (THC) and cannabidiol (CBD), according to drug board president Milton Romani, reports Malena Castaldi at Reuters.
"There will be three options with indications about the effects of each that point beginners toward starting with the lowest level" of THC, Romani told Reuters on the sidelines of the marijuana forum Expocannabis 2015.
Romani wouldn't identify the three cannabis varieties which will be available in pharmacies.
Uruguay in 2013 became the first nation in modern times to legalize the cultivation and sale of cannabis. Authorities have developed genetically distinct plants in an attempt to stymie the black market and keep legal weed from leaving Uruguay's borders, according to Romani.
The government said registered cannabis users will be able to buy weed at pharmacies by mid-2016, when the country's two licensed growers start selling their first crop of about four tonnes.
"We want to do things right, and if it takes a bit longer, so be it," Romani said. "We have to be very careful with this because any slip-up could ruin an experience that is unique to the world."
Marijuana will cost about $1 per gram, with locals allowed to buy up to 40 grams per month. So far, 3,200 people have registered to grow up to six plants for personal use.
The country's pioneering legalization law has drawn worldwide attention at a time when policymakers everywhere are debating the effectiveness of cannabis prohibition. Last month, Mexican President Enrique Pena Nieto said he would open a national debate to review the country's marijuana laws following a landmark Supreme Court ruling.
Photo of Uruguay Drug Czar Milton Romani: CIDH