Kentucky: Cannabis Freedom Act Filed To Legalize Marijuana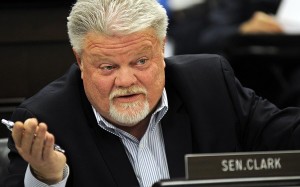 By Steve Elliott
Hemp News
State Senator Perry B. Clark of Louisville on Friday said he has pre-filed the Cannabis Freedom Act, which would legalize and regulate the use of marijuana in Kentucky similarly to alcohol.
The bill would repeal the Commonwealth's current prohibition on cannabis cultivation, possession and sales, according to a press release from Senator Clark, reports Lex18.com.
Clark said the bill would replace prohibition with a framework that would "promote public safety and responsible cannabis consumption by persons over 21 years of age."
"No one has adequately answered the question as to why cannabis is illegal," Sen. Clark said. "We were sold a bill of goods. We were bamboozled.
"It is abundantly clear to me that cannabis, while being much less harmful, should be treated the same as alcohol," said Sen. Clark. "The Cannabis Freedom Act is an outline on how to tax and regulate the sale of marijuana to adults 21 and older in Kentucky. It is time for this discussion in our Commonwealth."
"Few believe that anyone should be incarcerated where the cannabis plant is involved," Clark said. "Most of my life we have expended tax dollars pursuing a ban on a plant. Wasted dollars they were.
"Too many Kentuckians have had their lives stymied with criminal records as a result of nonviolent marijuana convictions," Sen. Clark said. "That is wrong. It is time to stop making criminals out of citizens due to outdated and ridiculous laws concerning cannabis."
The act would create a three-tier licensing system to regulate cannabis cultivators, processors and retailers independently, to prevent monopolization and vertical integration.
Tax revenue from legal marijuana sales would go to a fund set up to increase SEEK funding for Kentucky's public schools. The revenue would provide needs-based scholarships to state students hoping to attend public colleges and universities in Kentucky.
The tax money would also increase funding for "evidence-based substance abuse treatment programs, provide grants to local law enforcement agencies to purchase effective equipment and would provide additional revenue to the general fund," according to Sen. Clark's press releasea.
Clark said his is a "common sense proposal" and would would Kentucky in a positive direction.
"We have obliterated the individual's rights of choice and self-determination by clinging blindly to the bamboozlement concerning the benign and beneficial cannabis plant," Sen. Clark said. "Who is to say the limits of freedom regarding the growing or consumption of a plant. Perhaps freedom got lost in contrived fear and panic. Those that choose cannabis as medicine need not be criminal for attending to their personal health."
The bill will be considered during the 2016 Legislative Session, which begins on Tuesday, January 5.
Photo of Sen. Perry Clark: Lex18.com