U.S.: DOJ Will Continue To Be Prohibited From Interfering In State Medical Marijuana Laws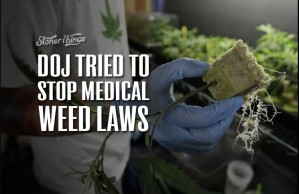 By Steve Elliott
Hemp News
The Justice Department will continue to be prohibited from interfering in state medical marijuana laws under the new federal spending bill unveiled late Tuesday night.
The compromise legislation includes a provision that is intended to prevent the department, including the Drug Enforcement Administration (DEA), from using funds to arrest or prosecute patients, caregivers, and businesses that are acting in compliance with state medical marijuana laws. It stems from an amendment sponsored by Reps. Dana Rohrabacher (R-CA) and Sam Farr (D-CA) that was first approved in the House of Representatives in May 2014 and included in the Consolidated and Further Continuing Appropriations Act of 2015 signed by President Obama last December.
"The renewal of the Rohrabacher-Farr Amendment suggests most members of Congress are ready to end the federal government's war on medical marijuana," said Robert Capecchi, director of federal policies for the Marijuana Policy Project (MPP). "There's a growing sentiment that the Justice Department should not be using taxpayer dollars to arrest and prosecute people who are following their states' medical marijuana laws."
"The renewal of this amendment should bring relief for medical marijuana patients and business owners," said Michael Collins, deputy director of National Affairs for the Drug Policy Alliance (DPA). "For decades Congress has been responsible for passing disastrous drug laws," continued Collins. "It's encouraging to see them starting to roll back the war on drugs by allowing states to set their own medical marijuana policies."
"While marijuana was once treated like a dangerous third rail by most elected officials, the inclusion of these provisions demonstrates how it has now become a mainstream issue at the forefront of American politics and policymaking," said Tom Angell, chairman at Marijuana Majority. "Polls show that a growing majority of voters support ending prohibition, and lawmakers can't help but listen.
"This is the second year in a row that Congress is using the appropriations process to tell federal agents and prosecutors not to interfere with state medical marijuana laws," Angell said. "But so far the Department of Justice has taken the absurd position that these spending provisions don't actually prevent them from going after patients and providers who operate legally under state policies.
"The intent of Congress is clear, and so is the will of the American people," Angell said. "Since the Justice Department is being so stubborn, the next step should be for lawmakers to pass permanent standalone legislation that goes beyond these temporary spending riders. Then the DEA will have a much harder time undermining Congress and voters."
In April 2015, a Justice Department spokesman told The Los Angeles Times that the department did not interpret the amendment as affecting cases involving individuals or businesses, but merely "impeding the ability of states to carry out their medical marijuana laws." In October, a federal judge ruled that interpretation was inaccurate and that the Rohrabacher-Farr Amendment prevents the department from taking action against individuals who are acting in compliance with state laws.
"This amendment has teeth, but only as long as it keeps getting renewed," Capecchi said. "It's time for Congress to adopt a more permanent solution. The CARERS Act is one option, but Sen. Grassley is not allowing it to get a committee hearing. Unfortunately, some members are still clinging to antiquated prohibition policies."
According to the Marijuana Majority's Angell, the negotiators added a second hemp provision. "It seems to be intended to stop the DEA from interfering with the importation of hemp for state research programs, which is something they've done in the past (in Kentucky)," Angell told Hemp News. "My best guess is that Sen. McConnell pushed to include this broader language (he was a co-sponsor of a hemp amendment that passed the Approps Committee earlier this year, and is signed on to standalone legislation as well)."
The new spending plan also includes an amendment, introduced by Rep. Andy Harris (R-Maryland) and approved earlier this year, which prevents the District of Columbia from regulating the cultivation and distribution of marijuana for adult use. District voters approved a ballot initiative in 2014 to make possession and growing of limited amounts of marijuana legal for adults 21 years of age and older.
"Marijuana is now legal for adults in the District of Columbia, and it needs to be treated like a legal product," Capecchi said. "It is irrational to prohibit D.C. officials from establishing a regulatory system to control the cultivation and distribution of marijuana. By renewing the Harris Amendment, Congress is posing a real threat to public health and safety in our nation's capital."
The full text of the new spending bill is online: http://docs.house.gov/billsthisweek/20151214/CPRT-114-HPRT-RU00-SAHR2029...
Graphic: Stoner Things