Maine: Terminally Ill N.H. Woman Will Finally Access Medical Marijuana On Friday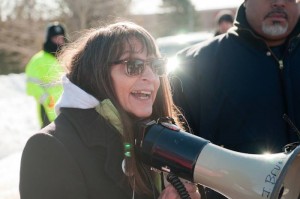 A terminally ill woman who successfully sued the New Hampshire Department of Health and Human Services to obtain the state's first medical marijuana patient ID card will visit a medical marijuana dispensary in Portland, Maine on Friday.
Linda Horan of Alstead, who suffers from Stage 4 lung cancer, will visit Wellness Connection of Maine, where she will be accompanied by New Hampshire State Rep. Renny Cushing and several of her supporters.
"I feel better already, knowing that I will not have to spend my final days in a narcotic stupor," Horan said. "I look forward to visiting the dispensary, learning about which products would be best for treating my symptoms. I will finally receive the medicine I need, and I won't need to fear being treated like a criminal for it."
Horan filed a lawsuit against DHHS Commissioner Nicholas Toumpas on November 5, asking the agency to immediately issue her a medical marijuana ID card so that she could begin obtaining medical marijuana legally in Maine and using it without fear of arrest in New Hampshire. On Nov. 24, a Merrimack County Superior Court Judge ordered the DHHS to issue her a card.
DHHS is responsible for administrating the state's medical marijuana program, which has experienced several delays since Gov. Maggie Hassan signed it into law in July 2013. The agency began accepting applications from patients interested in participating in the program, but patients remain at risk of arrest and prosecution until they receive program ID cards.
DHHS had refused to issue ID cards until dispensaries open, which is not expected until 2016, and it has not issued cards to any patients other than Horan.
Horan filed a pre-registration application to participate in New Hampshire's medical marijuana program after receiving approval from all five of her physicians.
"I am frustrated and angry that two and a half years after New Hampshire's medical marijuana law took effect, Linda was forced to sue the state to get access to her medicine," Rep. Cushing said. "She is brave and tenacious, and she's paving the way for other patients in New Hampshire. Nobody should have to fight as hard as she did to get the medical treatment they deserve."
Photo of Linda Horan: InDepthNH