U.S.: President Obama Grants Clemency To 95 People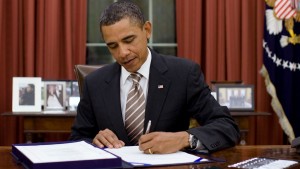 Clemencies Come As Congress Looks More Likely Than Ever To Pass Sentencing Reform
Drug Policy Alliance: The President Is Acting; Congress Must Step Up Too
By Steve Elliott
Hemp News
President Barack Obama on Friday commuted the sentences of 95 people incarcerated in federal prison for drug offenses. This follows the commutation of 45 people in July, 22 people in March, and 8 people in December of 2014. All of those who received commutations on Friday were serving time in prison for nonviolent drug offenses.
In taking this step, the President has now issued 170 commutations, the vast majority to non-violent offenders sentenced for drug law violations under draconian sentencing laws. President Obama has been under significant public pressure from advocacy groups and family members of people incarcerated for nonviolent drug offenses who are serving long, mandatory minimum sentences.
Two marijuana lifers were among those whose sentences were commuted by the President on Friday.
Marine veteran William "Billy" Ervin Dekle, 66, who used to fly planeloads of pot into Florida in the 1970s and '80s in his single-propeller airplane, was granted clemency, as was Charlie Cundiff, now approaching 70, who had two minor prior offenses for growing and possessing marijuana before he got caught up in a pot sting in Tallahassee in 1991, reports Bryan Schatz at Mother Jones. Both Dekle and Cundiff have been behind bars since the early 1990s after getting life sentences for conspiracy to distribute a substance that's now legal in some form in 23 states and Washington, DC.
Friday's commutations are more than twice as many as the President announced last March, which were the most granted at a single time by anyone since Lyndon B. Johnson.
"The President is to be applauded for bringing some much needed holiday cheer to the families of these incarcerated individuals, but we need so much more," said Michael Collins, deputy director at the Drug Policy Alliance's office of national affairs. "There is legislation moving through Congress that would reduce mandatory minimums, and Speaker Ryan and Leader McConnell need to bring these bills up for a vote."
The Sentencing Reform and Corrections Act, spearheaded by Judiciary Committee Chairman Chuck Grassley (R-IA), includes reductions in mandatory minimum sentences for drug offenses, an expansion of the federal "safety valve" (which allows judges to use their discretion to sentence people below statutory mandatory minimums), and will expand prison programming and early release, among other things. A similar bill, championed by Bob Goodlatte (R-VA), was introduced in the House. Both bills have strong bipartisan support, and are awaiting floor action.
Just last month, at the DPA's International Drug Policy Reform Conference, more than 1,500 attendees were asked to take part in a text action calling on President Obama to use his clemency powers more aggressively to free victims of the drug war.
Jason Hernandez, who served 17 years of a life sentence for a crack cocaine offense before becoming the first Latino to receive clemency from President Obama, announced the call to action: "President Obama, I love you like a father for giving me my life back. I will never be able to thank you enough for what you have done for me and my family, and I know you are not responsible for this war on drugs. You can't end it by yourself, but, Mr. President, with all due respect, you need to do more. There are mothers and fathers that have been in prison so long that their kids are being raised without a parent -- entire communities are being decimated -- all because of this failed war on drugs. Mr. President, bring our loved ones home."
"I am gratified that President Obama used his powers to release individuals who deserve to have a second chance at life," said Anthony Papa, media relations manager for the Drug Policy Alliance, who was granted clemency in New York State in 1997 after serving 12 years under the notorious Rockefeller Drug Laws for a first-time nonviolent drug offense. "These horrific drug sentences overwhelmingly impact people of color, and it's time our leaders righted these wrongs."
https://www.whitehouse.gov/the-press-office/2015/12/18/president-obama-g...
Photo: Generation Opportunity