Kansas: Couple Whose Tea Was Mistaken For Marijuana Loses Federal Suit Over SWAT Raid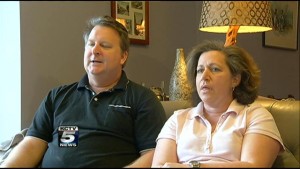 By Steve Elliott
Hemp News
A federal judge in Kansas last Friday ruled against a couple who'd brought a lawsuit in response to a botched SWAT-style pot raid, in which their home was ransacked by drug agents after a a field test incorrectly identified tea in their garbage as marijuana.
U.S. District Judge John Lungstrum entered the annals of infamy with the ruling that police acted legally and reasonably in planning and conducting the botched raid on the home of Robert and Adlynn Harte, former CIA agents whose children were 7 and 13 ast the time, reports Jacob Sullum at Reason, working on a tip from Marc Sandhaus, a good friend of Hemp News.
The Hartes and their children "were intimidated, accused, traumatized and held under armed guard" for two and a half hours while Johnson County sheriffs' deputies ransacked their home, after which they presented the family with a receipt reading "no items taken," rather than an apology.
According to the lawsuit, when a team of Rambo'd out SWAT team deputies arrived at the suburban Kansas City home, Robert Harte was forced to lie shirtless in the foyer while a deputy with an assault rifle stood over him. The children reportedly came out of their bedrooms terrified, the boy with his hands in the air, reports The Kansas City Star.
The cops refused to even say why they thought the Hartes were growing marijuana; the couple spent a year and $25,000 in legal fees to get a look at the affidavit supporting the search warrant.
Kansas is the only state that keeps such documents from public view, according to open-records advocates who want more transparency on the activities of police and prosecutors. The Hartes have subsequently lobbied for legislation which made it easier to get ahold of probable-cause affidavits in Kansas.
Judge Lungstrum's dim-witted ruling means he thought the evidence in that affidavit gave probable cause for a legal search. "If so, that's only because probable cause is a much weaker standard than people generally imagine," according to Reason.
The absurd story began when a Missouri state trooper saw Robert Harte leave a Kansas City hydroponics store on August 9, 2011, carrying a bag. Inside the bag were supplies for an indoor gardening project involving tomatoes, squash, and melons that Harte thought would be a good experience for his kids.
While that purchase wasn't enough for probable cause, eight months later, sheriff's deputies -- rummaging through the Hartes' trash -- discovered wet "plant material" that the Hartes say was probably some of the loose tea used by Adlynn.
A field test supposedly indicated the substance was marijuana, but a lab test conducted 10 days after the raid, and another four months later, showed that result was in error. "It does not look anything like marijuana leaves or stems," the lab report said.
The Hartes, in their suit, argued that the cops should have known better than to trust notoriously inaccurate field tests. One widely used field test, tne NIK NarcoPounch908, misidentified many legal plant products as marijuana, including spearmint, peppermint, basil, oregano, patchouli, vanilla, cinnamon leaf, lemon grass, bergamot, lavendar, ginseng, anise, gingko, eucalyptus, rose, cloves, ginger, frankincense, vine flower, chicory flower, olive flower, cypress, and St. John's wort.
Several of those herbs are common ingredients in herbal tea. The Hartes, in their complaint, said the test used to incriminate them has a false-positive rate of 70 percent, and that it is not supposed to be performed on "saturated or liquid samples."
But the simple act of visiting a hydroponics store, combined with the result of a test that is only accurate 30 percent of the time, assuming it's even performed correctly, is enough probable cause for an armed raid, according to rather credulous Judge Lungstrum.
The lawsuit has prompted the Johnson County Sheriff's Office to now require laboratory confirmation of suspected drug material.
Photo of Robert and Adlynn Harte: KCTV