Ohio: Marijuana Legalization Debate Far From Over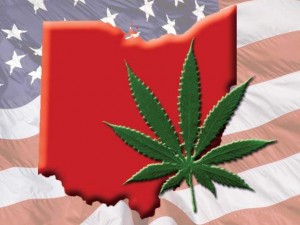 By Steve Elliott
Hemp News
Issue 3, a well-funded proposal to legalize recreational marijuana in Ohio, failed at the polls in November, but the issue isn't going anywhere.
More ballot initiatives are in the works, and state lawmakers have promised action on medical marijuana, reports Jackie Borchardt at Cleveland.com. Activists across the state are working on local ballot measures that would decriminalize pot possession.
Advocates struggled for years, with almost no funding, to put a marijuana initiative on the Ohio ballot. But in 2015, wealthy investors banded together with the name ResponsibleOhio to propose Issue 3, which would have legalized both recreational and medical marijuana. Funders, in exchange for giving $20 million to the campaign, would have owned the only 10 sites commercial cultivation sites allowed in the state.
Ohio voters didn't want that marijuana monopoly; 64 percent of them rejected Issue 3 at the voting booth. But according to experts, Issue 3 shouldn't be seen as an up-or-down vote on marijuana legalization, because it was so crappily written.
It's interesting that would-be "activists" like Russ Belville cluelessly brayed about Issue 3 needing to pass to "send a message" about legalization. The only "message" that passing garbage like Issue 3 would have sent is that "people would vote for anything if you just call it legalization"... a premise which, as we have learned, is quite faulty.
According to polls, a slim majority of Ohio voters are OK with recreational pot, and more than 80 percent say cannabis should be legal for medicinal uses.
After Issue 3 went down in flames, Ohio lawmakers promised to take up the issue of medical marijuana. No bills have yet been introduced, but members of the state House and Senate said they plan to look at the idea early next year.
"Constituents feel there might be some merit in it," said Rep. Kirk Schuring (R-Canton). "Ohioans also want to be assured that if we do it, we do it right, and that's why we're being very deliberative."
The Ohio Senate, meanwhile, seems ready to move on a faster track. Sen. Kenny Yuko (D-Richmond Heights) said a bill could be introduced by the end of January. He said his urgency comes from patients with cancer, epilepsy, multiple sclerosis or other serious illnesses that could benefit from cannabis and can't wait for the FDA approval process.
"If we wait for Ohio to catch up to some of these other states or countries, we're talking years," Yuko, who has MS, said. "For someone suffering from stomach cancer or MS, they don't have years."
ResponsibleOhio officials said they plan to return next year with a free-market plan including suggestions from both supporters and opponents. Hopefully, they learned their lesson and won't bring another b.s. monopolization proposal to the table.
Executive Director Ian James said ResponsibleOhio, which blew $21.5 million on the failed ballot campaign, has been talking with marijuana advocates, medical cannabis patients, members of the business and faith communities and others across the state to shape a new amendment, or "Legalization 2.0" as he called it.
James said more details will be released in early 2016 but hinted the new amendment use the beer brewing industry as a model. James said all of Issue 3's investors are interested in supporting a new amendment, even if it doesn't grant them exclusive grow rights.
"They not only understand the industry far better than they did at the beginning, they understand they have access to capital and are able to be in the industry more quickly than others," James said.
We'll see if they are really willing to let go of all that control.
Meanwhile, a separate group proposing full legalization has begun collecting the more than 305,000 signatures required to put its amendment on the November 2016 ballot. The political action committee Ohioans to End Prohibition ramped up its Legalize Ohio 2016 campaign after Election Day, including reaching out to ResponsibleOhio supporters and investors.
OTEP has received funding after Issue 3's defeat, and is continuing to collect signatures, according to President Sri Kavuru.
Kavuru has little confidence the Legislature will go as far as Ohio voters want. "We're planning on putting this on the ballot regardless," Kavuru said. "They're literally going to have to pass the perfect medical program in order for us to stop."
The Legalize Ohio 2016 amendment would allow adults 21 and older to possess up to 100 grams of dried marijuana flowers plus marijuana-infused products. Marijuana would be taxed at $1 per gram of flowers, with revenues going toward local governments, public employee pension funds, new schools, cannabis research and other public services.
Toledo voters in September passed a local ordinance eliminating all penalties for misdemeanor marijuana crimes, including possession of up to 200 grams of marijuana or more than 250 joints. The "Sensible Marihuana Ordinance" measure passed with an overwhelming 70 percent of the vote.
Efforts to replicate that Toledo law are underway in several other Ohio cities including Cleveland, Columbus, and Akron. Supporters are getting help from marijuana advocacy group Ohio NORML and the Legalize Ohio 2016 campaign.
Ohio Attorney General Mike DeWine, no friend of marijuana law reform, has sued the city of Toledo over the measure, arguing the Toledo ordinance makes felony marijuana possession and trafficking negligible municipal offenses, even if they occur at schools. DeWine said the city law invites drug trafficking. That case is being heard in the Lucas County Common Pleas Court.