New York: Company Will Offer World's First Certified Kosher Marijuana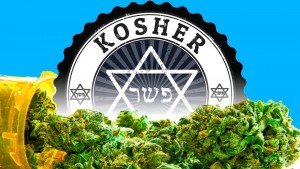 By Steve Elliott
Hemp News
A New York company has announced it will soon offer the world's first certified kosher medical marijuana.
Vireo Health, based in Albany, said its non-smokable medicinal cannabis products have been certified as conforming to the Jewish dietary law by the Orthodox Union, reports Glenn Blain at the New York Daily News.
The Orthodox Union said it awarded kosher certification to the product after inspecting Vireo's facilities to ensure the cannabis was grown and processed according to kosher standards. The standards include that the plants be insect-free, for example.
Vireo, one of just five companies chosen by the state to grow and distribute medical marijuana, said it will be the first "medical cannabis company in the world" to have the "OU" symbol on its oils, vaporization cartridges and other products.
Vireo said the certification will help the company serve patients among New York's Jewish population, the largest in the U.S. Its program is scheduled to start next month, and will serve patients who qualify under New York's medical marijuana law.
"Being certified kosher by the OU will not only help us serve the dietary needs of the largest Jewish community in the United States, but also combat unfortunate stigmas associated with medical cannabis," said Vireo CEO Ari Hoffnung.
"Judaism prioritizes health and encourages the use of medicine designed to improve one's health or reduce pain," said Rabbi Menachem Genack, CEO of OU Kosher. "Using medical cannabis products recommended by a physician should not be regarded as a chet, a sinful act, but rather as a mitzvah, an imperative, a commandment."
New York's Compassionate Care Act, signed by Governor Andrew Cuomo in July 2014, is scheduled to take effect in January after an 18-month set-up period. Many have criticized it for being among the most restrictive, and least patient-friendly, in the country.
Under the law, medical marijuana can be used to treat 10 serious illnesses and conditions, including cancer, HIV and AIDS, Lou Gehrig's, Parkinson's and Huntington's diseases, epilepsy, some spinal cord injuries and multiple sclerosis.
New York's law doesn't allow for any smoking of marijuana, nor the use of any cannabis flowers, nor the use of infused edibles, but only allows oils, concentrates, dissolvable strips, patches, and tinctures.
The law allows just five companies to grow marijuana and operate 20 dispensaries in the state. Each can grow only five particular strains of cannabis, with prices set by the health department.
The program covers only 10 "severe, debilitating, or life-threatening" conditions such as AIDS, epilepsy, and cancer, but leaves out conditions like glaucoma and PTSD, which are allowed for medical marijuana treatment in other states.
New York's medical marijuana program benefits little more than the five companies that were selected to receive cannabis growing licenses, according to Beal. "[Legalizing medical marijuana] was advertised as a chance for five companies to get really rich," Beal said. "That's not the spirit we were doing it in before."
Graphic: The Marijuana Show