California Deputy Arrested In $2 Million Pennsylvania Pot Bust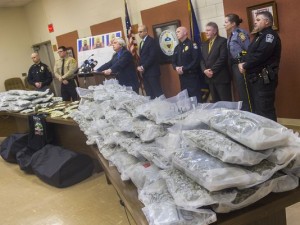 By Steve Elliott
Hemp News
A deputy sheriff who worked for a Northern California anti-narcotics task force got caught in a $2 million marijuana bust in Pennsylvania last week.
Authorities are now trying to figure out if any of the cases that Deputy Christopher M. Heath worked on have been tainted, reports Christine Hauser at The New York Times.
Heath, along with another man, 31-year-old Tyler Long, drove across the U.S. to deliver about 122 packages of marijuana to someone in West Manheim Township, Pa., according to police. But the cops had been tipped off, and they stopped the car around midnight on December 28.
The two men were arrested, along with a third man in the vehicle, Ryan J. Falsone, 27. In addition to the cannabis and cash, cops found Deputy Heath's badge and his duty firearm, according to David Sunday, the York County chief deputy prosecutor.
The Pennsylvania officers didn't know before the arrest that Deputy Heath worked in law enforcement, Sunday said.
Details about the bust were announced by York County District Attorney Tom Kearney and reported in local papers.
"One has to be both saddened and angry when you hear of something like this," Kearney said, reports Nicole Chynoweth at The Evening Sun of Hanover. "The work that is done by the task force and police officers in general is very dangerous work, and it is made more dangerous by the fact that occasionally there is a bad apple in the barrel."
All three men were arrested on felony drug charges, and each posted $1 million bail, according to Sunday. In Pennsylvania, five percent of bail must be posted, meaning $50,000 was paid to get each of the three men out, reports RT.com.
The 122 marijuana packages totaled 247 pounds, and had a street value of more than $2 million, Sunday claimed. At more than $8,000 per pound, that makes me really wish I was Sunday's pot dealer.
The deputy's arrest means that cops are now taking another look at numerous drug cases in at least two counties in Northern California to see whether they have been "compromised." Cases that had seemed bullet proof suddenly look quite vulnerable, and when they're pot cases, that's a good thing.
As part of the Yuba County Sheriff's Department, Deputy Heath has worked on the NET-5 task force against "illegal drug use," possession, manufacturing and sales. He worked for three years on NET-5, investigating "crimes" and serving as a witness, including in at least one federal case.
Earlier this year, Heath traveled to Waco, Texas, to testify in a federal case against a man accused of helping to run a family marijuana trafficking ring, reports Monica Vaughan at the Appeal-Democrat. Heath testified one of the family members bought property in the Yuba County foothills and grew marijuana there.
Heath led 62 criminal cases related to marijuana, according to unit commander Martin Horan.
"If Heath's work was witnessed or can be otherwise credibly covered by the testimony of another investigator, the case may not be significantly impacted," said Yuba County DA Patrick McGrath. "In other situations, the case may be tainted to such a degree that we cannot proceed and the case will be dismissed."
McGrath said Deputy Heath's bust triggered "an awful lot of work," and prompted a feeling of "real deep disappointment."
Heath is on administrative leave from the sheriff's department pending an investigation.
Photo: DA Tom Kearney at the podium with a group of officers and a bunch of weed -- Clare Becker/The Evening Sun