Global: Fans Mourn Death of Longtime Cannabis Enthusiast, Music Legend David Bowie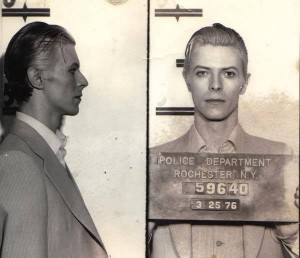 By Steve Elliott
Hemp News
A lifetime of music came to an end on Sunday, January 10, as music legend David Bowie, 69, died after an 18-month struggle with cancer.
"David Bowie died peacefully today surrounded by his family after a courageous 18 month battle with cancer," the artist's Facebook page announced. "While many of you will share in this loss, we ask that you respect the family's privacy during their time of grief."
Nearly 40 years ago, back on March 21, 1976, Bowie was arrested along with rocker Iggy Pop for possession of about half-a-pound of marijuana, reports Gabrielle Bluestone at Gawker. Bowie, Pop and another man and woman were staying in a three-room suite at the Americana Rochester Hotel when they were raided by vice squad detectives at about 2:25 a.m.
All four were held for a few hours at the Monroe County Jail before they were eached freed on $2,000 bond, reports Dylan Stableford at Yahoo News. Bowie paid everyone's bail.
Three days later, Bowie returned to the Rochester court, where he was welcomed by a crowd of about 200 fans, reporters and "the screams of about a half-dozen suspected prostitutes awaiting arraignment in the rear of the corridor outside the courtroom," according to the Democrat & Chronicle.
Asked for a plea by City Court Judge Alphonse Cassetti to the charge of fifth-degree criminal possession of a controlled substance, Bowie said, "Not guilty, sir." The court used his real name — David Jones.
Bowie wore a gray three-piece leisure suit and a pale brown shirt. He was holding a matching hat. His two companions were arraigned on the same charge.
Charged with a class-C felony, Bowie technically faced up to 15 years in prison, but the charges were ultimately dropped.
After the arraignment, Bowie told reporters that the local police had been "very courteous and very gentle" with him since his arrest.
"They've been just super," he said, adding that he was "very flattered" and "felt very honored" by the fans who waited outside court for more than two hours to catch a glimpse of him.