Arizona: Marijuana Legalization Campaign Nearing Signature Goal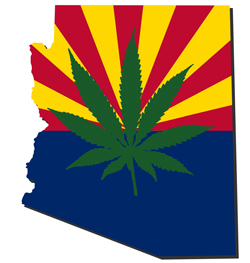 By Steve Elliott
Hemp News
A campaign to legalize marijuana in Arizona is nearing its goal of 150,000 valid signatures to qualify for this November's ballot, supporters announced on Wednesday.
The initiative would give Arizona voters the opportunity to legalize cannabis for recreational use, reports Yvonne Wingett Sanchez at The Republic. It would establish a network of licensed marijuana stores where sales would be taxed.
The Campaign to Regulate Marijuana Like Alcohol is just a few thousand signatures short of the 150,642 needed to qualify, according to spokesman Barrett Marson. The group is aiming for 225,000 signatures to make up for those which are likely invalid, Marson said.
"Arizonans are clearly excited about this initiative," Marson said.
A whackjob anti-cannabis group calling itself "Arizonans for Responsible Drug Policy" is opposing the measure, pointing to a new U.S. Department of Health and Human Services survey showing Colorado leading the nation in past-month marijuana use now that weed is legal there.
Under Arizona's proposed Regulation and Taxation of Marijuana Act, adults 21 and older could possess up to one ounce of cannabis and grow up to six plants in their homes without a license, as long as the plants are in a "secure area."
It would create a distribution system similar to Colorado's, where state-licensed businesses produce and sell cannabis. It would also create a Department of Marijuana Licenses and Control to regulate the "cultivation, manufacturing, testing, transportation, and sale of marijuana" and would give local governments the authority to regulate and ban marijuana stores.
The Act also would establish a 15 percent tax on retail sales, with proceeds going to education, including full-day kindergarten and public health. Under the initiative's language, driving while impaired by marijuana would remain illegal, as would public consumption and selling or giving weed to anyone under 21.
Taxation of the program would pay the state's costs of implementing and enforcing the initiative. Forty percent of cannabis taxes would be earmarked for the Department of Education for construction, maintenance and operational costs, including salaries of K-12 teachers. Another 40 percent would go to full-day kindergarten programs. Twenty percent would go to the Arizona Department of Health Services for "unspecified uses," perhaps office parties.
Revenue from marijuana taxes could not flow into Arizona's general fund, which would allow it to be spent for other purposes.
Graphic: Arizona Capitol Times