Texas: Customs Seizes Fake Carrots Stuffed With More Than A Ton Of Marijuana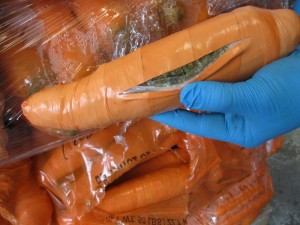 By Steve Elliott
Hemp News
U.S. Customs and Border Protection agents on January 10 discovered more than a ton of marijuana disguised as carrots on the border between Mexico and the United States near McAllen, Texas.
Agents first performed a search of the vehicle carrying what appeared to be a commercial shipment of carrots by using "non-intrusive" imaging technology, reports Alex Lockie at Business Insider, then took a second pass with drug-detecting dogs.
Bundles of marijuana were wrapped in orange tape, disguised as large carrots, in the shipment, which was crossing the Pharr-Reynosa International Bridge. There were 2,817 carrot-shaped packages of marijuana, which agents claimed were worth $499,000 on the street, reports FoxNews.com.
"Once again, drug smuggling organizations have demonstrated their creativity in attempting to smuggle large quantities of narcotics across the US/Mexico border," said Port Director Efrain Solis Jr., of the Hidalgo/Pharr/Anzalduas Port of Entry.
"Our officers are always ready to meet those challenges and remain vigilant towards any type of illicit activities," Solid said.
Homeland Security agents will follow up on the carrot investigation, authorities said.