Illinois: Medical Marijuana Program In Danger Of Failure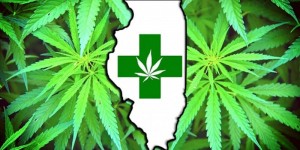 By Steve Elliott
Strict rules governing which patients qualify for the Illinois medical marijuana program, seen by some as the most restrictive such program in the nation, mean a low number of approved patients, and this could force some medicinal cannabis businesses to close just as the program is starting to get underway.
The Illinois Department of Public Health (IDPH) has approved only a small amount of illnesses meeting the requirements for using medical marijuana in the state, reports Debra Borchardt at Forbes. Despite the fact that the Medical Cannabis Advisory Board for the program had recommended that 11 additional conditions be added to the list, in September the IDPH refused to expand the list.
The advisory board came back in October with a list of eight conditions; if the new list is approved, it would lead to a much larger number of patients, and would ensure the success of the medical marijuana program and the viability of the businesses. Several chronic pain conditions, osteoarthritis, autism, irritable bowel syndrome and post-traumatic stress disorder (PTSD) are on the latest list the board has recommended.
The IDPH said it would accept petitions from patients during the month of January; those petitioning for more conditions to be added to the list must provide the medical condition, evidence supporting medicinal cannabis as a treatment for that condition, and letters of support from health professionals. The petition package must include the original petition, two paper copies and an electronic copy.
More than 18,000 people have signed a Change.org petition asking the state to expand the coverage list. Even singer Melissa Etheridge, who suffered from breast cancer, joined the campaign.
Since the Illinois medical marijuana program began accepting applications in September 2014, just 4,000 qualifying patients have been approved as of December 2015. More than 29,000 have started the application process.
Gov. Bruce Rauner has been accused of obstructing the program in Illinois, similar to how Gov. Chris Christie has done in New Jersey. Christie opposed his state's program, signed by by his predecessor on his last day in office, and has vowed to prevent its expansion. For his part, Gov. Rauner vetoed a measure that would extend the Illinois "pilot" program past 2018.
Marijuana business owners say they need 20,000 to 30,000 patients in the next six months to save the industry in Illinois, reports Katlyn Smith at the Daily Herald. Each of these patients would need a physician's recommendation, and many doctors in the state have said their employers have asked that they not write medical marijuana recommendations.
Most larger health care systems in the Chicago area remain neutral, but a few downstate have told their doctors not to certify patients, the state's former coordinator, attorney Bob Morgan, said. Morgan now works with marijuana businesses outside Illinois.
Graphic: Reboot Illinois