U.S.: Thursday Webinar To Address Quality Control In Medical Marijuana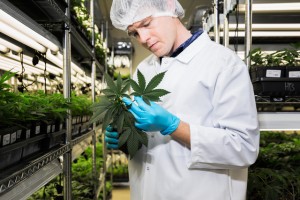 By Steve Elliott
Hemp News
A Thursday press briefing via Webinar will address the need for better quality control in medical marijuana products.
The briefing, hosted by RTI International, will address the public health risks arising in this unregulated market due to factors such as:
• Product types and formulations that vary from state to state, store to store, even product to product;
• Inaccurate product labeling and marketing claims;
• Limited testing of medical marijuana products for safety and efficacy; and
• Lack of professional guidelines and governmental regulations. This places the burden on the consumers and providers to be aware of the above factors and how they affect dosing and ultimately, safety.
This briefing comes at a time when the number of medical marijuana users is on the rise in the U.S. and even presidential candidates on the campaign trail are calling for more research.
Marijuana itself, of course, is as safe as it ever was. But as big corporate money and big corporate mass production methods have come to the medicinal cannabis world, the mom-and-pop atmosphere of trust and safety which had distinguished the industry from the rest of the cut-throat economy is fading away. Production is increased by using chemical fertilizers and harsh pesticides, and those who are focused only on profit and not on healing are looking only at the bottom line.
Ironically, the presence of these new, big-money bad actors on the medical marijuana scene is quite convenient for those who want to stress an "urgent need" for oversight of "public health risks" which haven't been a factor until now -- because until now, many or most medical marijuana patients knew the folks where they bought their medicine.
States are now grappling with regulatory policies to make these products safer for patients who struggle with pain, seizures, cancer and HIV/AIDS – and have found that these products bring them relief.
WHO
Moderator: Brian Southwell, Ph.D., director, Science in the Public Sphere Program at RTI International; host, "The Measure of Everyday Life," WNCU-FM (@MeasureRadio on Twitter)
Brian Thomas, Ph.D., Principal Scientist, Analytical Chemistry and Pharmaceutics at RTI International; author of The Analytical Chemistry of Cannabis
Ryan Vandrey, Ph.D., Associate Professor, Behavioral Pharmacology Research Unit at Johns Hopkins School of Medicine
Scott Novak, Ph.D., Senior Developmental Epidemiologist, Behavioral Health Epidemiology Program at RTI International
WHEN: Thursday, February 18, 2016, at 1 p.m. EDT
WHERE: To join, register at https://cc.readytalk.com/r/msm4h5240mb&eom.
WHY: Medical marijuana is legal in almost half the country and more people now than ever before are finding it useful to address an array of health conditions. "However, the significant lack of quality control among the hundreds of products on the market, and inadequate science to back the widespread marketing claims being made, is leading to potential serious health risks," RTI International tells us. "There is a strong need for regulation, more research and testing, and standardization of medical marijuana products – along with better patient and provider education -- in order to keep users safe."
For more information, visit www.rti.org/marijuana.
Photo: Bloomberg