Washington: Lawmaker Says Black Market Weed Still Cheaper Than The Legal Stuff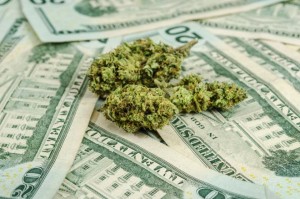 By Steve Elliott
Hemp News
State Rep. Christopher Hurst, who just last week wouldn't allow a committee vote on a marijuana home grow bill, said on Thursday that it's still cheaper to buy black market cannabis in his state than it is to go in a store and buy the legal stuff.
House Bill 2347, which Hurst (D-Enumclaw) is sponsoring, would reduce the tax on legal recreational marijuana from 37 to 25 percent, reports LaVendrick Smith at the WNPA Olympia News Bureau. The idea is to make legal marijuana prices more competitive with those on the black market, according to Hurst.
A reduced tax would be one of the most important ways of eliminating black market sales of marijuana, according to Hurst, who said the black market still makes up 65 to 75 percent of cannabis sales in Washington state.
"We can't get there if we price ourselves so much higher than the illicit market," Hurst said. "The criminals love the tax rate being high, because they don't pay it, and it makes it so the legal people can't compete with them."
Then again, nobody knows for sure what Rep. Hurst even means when he says "black market," since last year he said he viewed all medical marijuana dispensaries as black market dealers -- and they have openly operated in the state for more than a decade, with many paying taxes. With the shutdown of medical dispensaries looming, medicinal cannabis patients will be forced to go through the recreational system to buy marijuana beginning July 1.
Hurst's proposal failed to pass the House Finance Committee by the cutoff point of February 9, but Hurst claims it could still be worked in as an amendment to the budget, though he said he hasn't decided whether to take that course.
Hurst said the current 37 percent tax on pot is too high, and it punishes licensed retailers going by the rules of I-502, which voters in 2012 approved to allow the production, sale and recreational use of cannabis by adults in Washington.
"The voters, when they passed 502, didn't say that they wanted more people smoking marijuana or people to smoke more marijuana," Hurst claimed. "What they said was they wanted a stabilized, well-regulated market and, fundamentally, you don't get there if the price is so high that you're keeping organized crime in business."
Hurst's proposal comes one year after the Legislature eliminated individual 25 percent taxes at each step of the supply chain -- producers, processors, and retailers -- and implemented instead a one-time 37 percent tax on the final product at retail.
K.C. Franks, owner of the Seattle pot shop Stash, said he supports reducing marijuana taxes. He has owned the store for six months, and said the taxes retailers have to pay provide challenges to them that other businesses don't face.
"Marijuana businesses need to sell $200,000 or more a month to break even," Franks said. He said lower prices could help retailers compete with the black market, which has advantages including a willingness to deliver products.
Logan Bowers, co-owner of Seattle pot shop Hashtag, said cheaper prices could draw more customers to legal marijuana. "This is a crucial step forward," Bowers said. "It's really important that we have price parity with the black market."
The fiscal impact estimate for the bill was a projected loss of $87 million in the upcoming fiscal year, with about $268 million in revenue expected with a 37 percent tax, as opposed to $181 million with a 25 percent tax.
"It's a pretty major hit as the state is trying to figure out how to fully fund education, mental health, and other important public services," said Nick Federici of the Revenue Coalition in a hearing on the bill Feb. 5 in the House Finance Committee.
Hurst claimed the fiscal impact was overblown, and didn't account for the people who would switch to legal marijuana instead of the black market stuff once cheaper prices were in place.
Photo: Medical Daily/Shutterstock