New York: Women's Visionary Congress To Host Weekend of Events March 11-13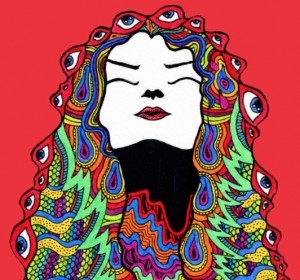 Research Scientist Katherine MacLean, PhD, Artist Allyson Grey, and Psychiatrist Julie Holland, MD, Will Discuss How To Integrate Insights From Non-Ordinary Consciousness
In two weeks, a formerly underground women's psychedelic organization will host a weekend of events in New York City that will examine how to integrate insights from non-ordinary states of consciousness.
The Women's Visionary Congress (WVC) invites interested participants to a salon featuring Katherine MacLean PhD, Allyson Grey, and Julie Holland MD who will share their thoughts on how these experiences can have a lasting impact on our lives.
The event will take place March 12 from 11 am to 5 pm at The Alchemist's Kitchen, 21 East 1st Street, New York, NY. People of all genders are welcome to attend. Tickets are $50 and benefit WVC which is a 501C3 nonprofit organization.
The WVC salon will be preceded by a party on Friday, March 11, from 6-10 pm at the Rubin Museum at 150 W 17th Street in New York City. Admission is free.
The salon will be followed on the evening of Saturday, March 12, by a visionary storytelling gathering co-hosted by the WVC and Symposia which will take place from 8 pm to midnight at the Hell Phone at 247 Varet St. in Brooklyn. There is no charge for admission.
On Sunday, March 13, the WVC will host a tea party and immersive art experience from 10 am – 2 pm at the statue of Alice in Wonderland and her friends located in Central Park north of the Conservatory Water at East 74th Street in New York City. Participants are invited to bring a teacup.
The first speaker at the WVC salon, Katherine MacLean, PhD, received a fellowship from the National Science Foundation to study the effects of intensive meditation training on well-being and brain function. As a postdoctoral research fellow and faculty member at the Johns Hopkins University School of Medicine, she worked with researchers who examined the impact of psilocybin on personality change and how this class of medicines could enhance mental health and creativity.
Dr. MacLean is the director of the Psychedelic Education and Continuing Care program in New York City. Her current focus is the role of psychedelics and meditation in preparing individuals for death and healing trauma related to grief.
Allyson Grey, a painter and social sculptor will present the second talk at the WVC salon. Grey holds an MFA from Tufts University and is a long-time art educator, arts organizer and muse to artists worldwide. Since 1975, Allyson has collaborated with the visionary artist Alex Grey.
The Greys co-founded the Chapel of Sacred Mirrors (CoSM), a spiritual retreat center for artists outside of New York City. Together, Allyson and Alex have painted onstage in dozens of cities before thousands of dancing people at festivals and arenas across five continents including Broadway theaters in New York City. Long-time advocates of cognitive liberty, the Greys are part of a growing international "sacramental culture" where they are embraced as mapmakers and spokespersons for the visionary realm.
Dr. Julie Holland is a psychiatrist and psychopharmacologist, with a private practice in New York City established in 1996. She is a Fellow of the NY Academy of Medicine and was Assistant Clinical Professor of Psychiatry at NYU School of Medicine from 1995 to 2012.
From 1996 to 2005, Dr. Holland ran the psychiatric ER of Bellevue Hospital on Saturday and Sunday nights. Her book, Weekends at Bellevue, chronicles that time. She is editor of the books Ecstasy: The Complete Guide and The Pot Book: A Complete Guide to the Risks and Benefits of Cannabis.
Dr. Holland was awarded the Norman Zinberg Award for Medical Excellence by the Drug Policy Alliance in 2011. Her new book, Moody Bitches: The truth about the drugs you're taking, the sleep you're missing, the sex you're not having, and what's really making you crazy, was published last year and has been translated into 11 languages.
Graphic: Psymposia