Georgia: Parents Plan To Publicly Break Law To Get Medical Marijuana For Kids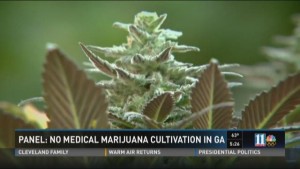 By Steve Elliott
Hemp News
With a quick prayer, a group of Georgia parents are preparing to very publicly break the marijuana laws. The room full of parents who have kids they believe can benefit from cannabis oil agreed that they will not be defeated by the recent gutting of the state's medical marijuana legislation.
"The governor has asked us to break federal law; the governor has asked us to break another state's law," parent Vince Seivert said, reports Christopher S. Hopper at WXIA.
Some saw House Bill 722 as the logical successor after House Bill 1 passed last year, allowing Georgia parents to use and possess non-psychoactive CBD oil, derived from cannabis. Parents and patients were hoping HB 722 would make it easier for them to obtain their medicine.
But on Wednesday, the House Judiciary Non-Civil Committee approved a gutted version of HB 722 that stripped out in-state cultivation language. In the version of the bill passed by the committee on Wednesday, post-traumatic stress disorder was added back to the list of authorized illnesses that can be treated with cannabis oil.
HB 722 now goes back to the House Rules Committee, where it could be put on the calendar for a full House vote.
Some say the new version of the bill doesn't help enough.
"We refuse to allow another worthless bill to be based that doesn't help everybody," parent Dale Jackson said. "When will Governor Deal stand up and defend the families of Georgia against federal agents when we make it very public what we're doing?"
Governor Nathan Deal, who continues to oppose cultivation of marijuana in Georgia, has advised parents to go ahead and break federal law to get CBD oil into the state. Their plan is to buy cannabis in a state where it's legal, bring it back to Georgia in violation of federal and state laws, and to make sure everyone along the way knows exactly what they're doing.
"You have to lie to that dispensary; you have to break Colorado law because there are laws that say you can't leave the state with it," Seivert said. "And then every state that was cross on the way home, we're breaking that state's laws as well."
The parents said they do not support any legislation that doesn't include in-state cultivation of marijuana, even if could help their own child. "It is much bigger than the parents in this room right here," Jackson said.
According to Vince and Michelle Seivert, Sarabeth Fowler, Dale Jackson, and Jennifer Conforti, about 100 other parents will join them in the public effort.
"Nobody wants to go to jail, nobody wants to be a federal felon, nobody wants to have their kids taken away from them," Vince Seivert said. But this plan, they said, is what they have to do to keep politicians and law enforcement honest.
"Desperate parents will do what they need to do for their children," Conforti said.
The parents, who say no law will be good enough until it allows marijuana cultivation in Georgia, are challenging Gov. Deal to meet with them so they can bring cultivation back to the table.
"Please email HopeUnitedGa@gmail.com if you are willing to join us in this fight," Jackson said. "We hope that you will join us in this fight for ALL Georgians! Remember, we are not against the local sheriff, police chief or DA. Our fight is with Nathan Deal!"