Florida: House Passes Civil Asset Forfeiture Reform Unanimously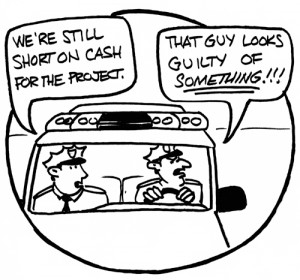 Unanimous Vote in House Follows Last Week's Unanimous Support in the Senate
Coalition of Reform Advocates and Law Enforcement Urge Gov. Scott to Sign Into Law
The Florida House of Representatives on Tuesday unanimously passed SB 1044, reforming Florida's "Contraband Forfeiture Act," sending the legislation to Gov. Rick Scott's desk for a signature. Last week the Senate passed the legislation, sponsored by Sen. Jeff Brandes, in a unanimous 38–0 vote.
The bipartisan unanimity of passage in both chambers was driven by a diverse and disparate coalition of law enforcement and reform advocates, including the Drug Policy Alliance (DPA), which retained attorney Ron Book to lobby on their behalf for the legislation, the Florida Sheriff's Association, the Florida Association of Police Chiefs, Americans for Forfeiture Reform, the Florida ACLU, the Florida Association of Criminal Defense Lawyers, the Institute for Justice, the James Madison Institute and the Grover Norquist-led, Americans for Tax Reform.
"This bill sends a powerful message to Floridians: the government cannot seize your property without making an arrest," said Sen. Jeff Brandes, the author and prime Senate sponsor of the legislation. "These sweeping reforms to civil forfeiture institute major consumer protections and prevent abuses against the property rights of Floridians. I hope the Governor will join both houses of the Florida legislature and support these critical reforms by signing this bill into law."
"A year ago, I wouldn't have believed someone who told me a reform of Florida's civil asset forfeiture laws was possible; today we've seen unanimous votes in both houses of its legislature in the space of less than a week," said Ethan Nadelmann, executive director of the Drug Policy Alliance. "More work remains to fully protect the rights of Floridians but these reforms are significant. The Governor should look to the unanimity of the legislature and sign these reforms into law as soon as he can."
Nadelmann was joined by Grover Norquist, founder of Americans for Tax Reform, in applauding the bill's passage and urging Gov. Scott's signature. "The government should not be allowed to take your stuff – your money, your car, your boat – without so much as charging you with a crime," Norquist said. Today that is not true.
"As soon as Governor Scott signs the Civil Asset Forfeiture reforms, sponsored in the Senate by Jeff Brandes, this outrage will begin to end for Floridians," Norquist said.
Florida's largest law enforcement organization, the Florida Sheriffs Association, was a key member of the coalition of advocates who worked towards passage of these reforms. The Sheriffs released a statement earlier today, lauding the passage of SB 1044.
"The Florida Contraband Forfeiture Act is an important tool for law enforcement in preventing crime and protecting Florida's communities," reads the statement from the Florida Sheriffs Association. "Current HB 889/SB 1044 strikes an important balance addressing the needs of law enforcement to prevent criminals from profiting from their illegal acts while strengthening the property rights of citizens.
"The Florida Sheriffs Association wants to thank Senators Jeff Brandes and Aaron Bean and Representatives Larry Metz and Matt Caldwell for their hard work in bringing together all stakeholders, and finding a long-term compromise that all sides could support," the group's statement reads. "We support SB 1044 passed by the Senate and House and we encourage Governor Scott to sign this legislation into law."
DPA's fact sheet on civil asset forfeiture can be found online at: http://www.drugpolicy.org/resource/civil-asset-forfeiture
A recent opinion piece on civil asset forfeiture in Florida by Grover Norquist can be found online at: http://www.sun-sentinel.com/opinion/fl-gncol-oped03003-20160302-story.html
Disclaimer: If you do not wish to receive further news/releases from Drug Policy Alliance, please click the following link: [Remove Me]. Requests will take a maximum of 2 business days to process.
Contact information: Tony Newman, Drug Policy Alliance, 131 West 33rd St., 15th Floor, New York, NY 10001
Click here to Reply or Forward
66.75 GB (6%) of 1,024 GB used
Manage
Terms - Privacy
Last account activity: 0 minutes ago
Open in 2 other locations Details