Colorado: Feds, Local Cops Raid Suspected Illegal Marijuana Grows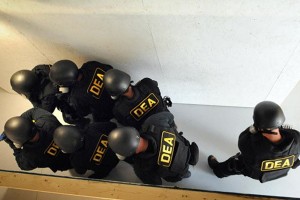 By Steve Elliott
Hemp News
This isn't quite how we pictured legalization. Denver police and federal Drug Enforcement Administration agents on Tuesday morning raided multiple unlicensed marijuana grows as part of a two-year investigation.
There have been no arrests, and police faced no resistance at any of the locations where officers executed search warrants, said Denver Police Commander Marcus Fountain, reports Noelle Phillips at The Denver Post.
Police wouldn't say how many sites were raided, and wouldn't quantify the amount of cannabis seized (I don't know, maybe they haven't figured out how much they're stealing yet).
The grow sites were across the Denver area, including residential areas, according to Fountain, who said the investigation continues.
Law enforcement has identified no connections to any gangs or cartels, according to Fountain. Police have more interviews to perform, and more locations to investigate, he said.
"It's likely to go on for several more months," Fountain said. "It's that complicated."
Police claim "it's possible" that "some of the operators" may be shipping weed out of state, reports the Associated Press. Well, lots of things are possible, but that doesn't mean we need to base police raids of them.
Colorado residents 21 and older are allowed to grow up to six cannabis plants, with no more than three being in flower at any time, without "getting a license." This effectively restricts larger scale growing to wealthy corporate types.
A Denver city ordinance limits the number of plants to 12 per household, regardless of the number of adults living there.
Under both Washington state-style and Colorado-style marijuana "legalization," people are still getting busted for "growing without a license."
In the real world, this means those of lower incomes who can't afford to pay for expensive licenses and navigate the Byzantine regulations are left in the black market -- you know, the black market that was supposed to have been replaced by legalization.
This wouldn't happen if we could just REPEAL the marijuana laws. What we have, especially in Washington (with no home grow at all) and to a lesser extent in Colorado (with up to 6 plants allowed, but larger grows busted) is not so much legalization as CORPORATIZATION (making the price of admission so expensive that only corporations can pay to play).
Photo: Cannabis Now