California: S.F.'s First Boutique Style Medical Marijuana Dispensary Opens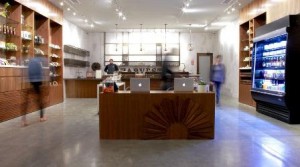 Harvest, which is calling itself "San Francisco's first boutique-style cannabis dispensary and private member lounge," opened in January, and according to its owners, the shop "offers a new style of shopping experience for those who are seeking a wide variety of high quality, chemical-free, tested medical cannabis products."
Harvest, which is located on Geary Boulevard in San Francisco's Inner Richmond District, offers, according to management, "expertly curated artisanal products sourced from California's craft cannabis artisans."
The retail store and members-only lounge interiors "were imagined by top designers from San Francisco and Chicago, reflecting a completely innovative approach to cannabis merchandising and consumption," we learn from a Wednesday press release.
"Harvest serves a growing number of San Franciscans who are seeking a retail experience that transcends the counter-culture industry reputation," the prepared release reads. "With windows open to Geary Boulevard, the bright and airy atmosphere features modern wood detail, contemporary lighting, polished concrete floors, and open shelving.
"Customers can freely interact with cannabis consultants and carefully chosen selections of cannabis flowers, concentrates, cosmetics, edibles, accessories, pet supplies and other products," the release reads.
"The Harvest concept is dedicated to making every consumer experience with medical cannabis fun, safe and unintimidating," said founder Marty Higgins. "After two years of due diligence, absorbing the best practices in retail, hospitality and dispensary operations from around the country, we adapted these concepts to create a format that normalizes the retail experience for San Franciscans."
Harvest offers what it calls "the City's first membership-only private lounge." Attached to the boutique is a separate space to work and relax while enjoying the store's premium selections. "Like-minded customers enjoy comfortable seating and work areas that offer the amenities of a modern social club," according to Harvest.
"We want to change the way people think about and consume cannabis," Higgins said. "We're connecting our patients to farmers and producers for transparency and consistency, delivering an open retail concept with products on the shelves and a customer first approach."