New York: Victims of the War On Drugs Call For Abolishing The DEA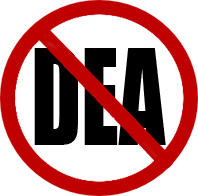 Decades of violence, corruption, support for authoritarian governments, and illegal spying on Americans leave DEA unfit for service
Ahead of major United Nations meeting on global drug policy, activists call for new approach focused on public health and safety
What: Banner drop & protest at the NYC Drug Enforcement Administration Office.
When: This Friday (3/18) @ 11 AM
Where: Drug Enforcement Administration, New York City office, 99 10th Ave, NYC 10011
Details: People with a history of drug use, the formerly incarcerated and people living with AIDS, all identifying as "victims of the Drug War," will protest the Drug Enforcement Administration for its role in perpetuating the worst of drug war policies, including mass incarceration of people of color, fueling violence abroad, and fighting scientific evidence and public health needs in order to wage the Drug War at all costs.
Protesters will do a banner drop off the High Line Park reading "Just Say NO to the DEA", followed by blocking traffic in front of the office.
For more background on DEA abuses, click here to read the fact sheet.
The UN General Assembly Special Session: The DEA protest is the first in a series of actions leading up to the April 2016 United Nations General Assembly Special Session on the World Drug Problem (UNGASS), the biggest global drug policy meeting in over a decade and a crucial moment for confronting the disastrous global war on drugs. For more on UNGASS and international movement for reform, visit www.StopTheHarm.org.
Upcoming Action: VOCAL-NY is organizing weekly actions every Friday before UNGASS. Next week we'll target the Russian government to protest that country's exploding HIV/AIDS crisis, which is largely driven by its failure to support harm reduction services like syringe exchange.
When: Friday March 25 at 11 AM
Where: Russian Federation Permanent Mission to the UN, 136 E 67th St, NYC 10065.
Drug Policy Alliance Website: The Scandal-Ridden DEA
The DEA has existed for more than 40 years but Congress has rarely scrutinized the agency, its actions, or its $2 billion budget. Little attention has been given to its role in fueling mass incarceration, racial disparities, the surveillance state, and other Drug War problems.
The failure to exercise oversight has led to questionable enforcement practices, numerous scandals and human rights abuses, and open defiance of laws requiring decisions be based on scientific evidence. It's time for change.