Global: Marijuana-Based Drug Found To Reduce Epileptic Seizures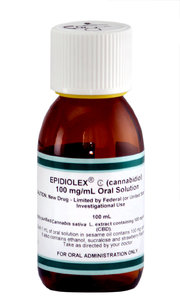 By Steve Elliott
Hemp News
The first major clinical trial of an experimental drug derived from marijuana has shown that Epidiolex reduces epileptic seizures, the product's developer announced on Monday.
The shares of Big Pharma giant GW Pharmaceuticals more than doubled on Monday after the announcement.
GW said Epidiolex achieved the main goal of the trial, reducing convulsive seizures when compared with a placebo in patients with Dravet syndrome, a rare, severe form of epilepsy, reports Andrew Pollack at The New York Times.
If Epidiolex wins regulatory approval, as expected, it would be the first prescription drug that is extracted from marijuana. Marinol (Dronabinol), the THC capsules prescribed for nausea and appetite, use synthetic rather than plant-derived THC.
Epidiolex is a liquid containing cannabidiol (CBD), a non-psychoactive component of cannabis.
As many as one-third of the nearly 500,000 American children with epilepsy aren't sufficiently helped by existing Big Pharma drugs, according to GW. Parents of these children have, in desperation, tried medicinal cannabis extracts prepared by medical marijuana dispensaries.
A number of states, responding to pressure from parents, have passed "CBD-only" laws to make it easier to obtain such products. Some families have become marijuana refugees, moving to Colorado, where it is easier to obtain the CBD extract known as Charlotte's Web, which is named after Charlotte Figi, the girl who first used it to control seizures.
Many parents have reported amazing reductions in seizures, but experts have been cautious about "anecdotal" reports, saying that such treatments needed to be compared with a placebo to make sure they work.
"I'm very proud and happy about this study because it is science — we did things the way they should be done," said lead investigator Dr. Orrin Devinsky of the Comprehensive Epilepsy Center at New York University Langone Medical Center. "I would strongly advocate that in the United States we need to do systematic assessments of medical marijuana."
The study looked at 120 patients with an average age of 10 and an average frequency of 13 convulsive seizures a month when the study began, despite taking an average of three other pharmaceuticals. Half were randomly assigned to take the placebo, with the other half receiving Epidiolex, in addition to the medicines they were already receiving.
For patients who got Epidiolex, the frequency of seizures fell by 39 percenet during the 14-week trial, compared with the four-week period just before the study started. For those getting the placebo, seizures reduced by 13 percent; the difference was statistically significangt.
Eight patients withdrew from the Epidiolex trial because of side effects including sleepiness, diarrhea, decreased appetite, fatigue, fever, vomiting and upper respiratory infection, but the drug was "well tolerated" overall, GW said.
GW said it would present the full details of the study at a medical conference.
The London-based company said it would meet with the FDA to see if Epidiolex could be approved based on this single study. The company expects the results of another trial for Dravet syndrome later this year, and also the results of two trials in another form of epilepsy, Lennox-Gastaut.
American shares of GW Pharmaceuticals closed up about 120 percent on Monday. The company already sells Sativex, an oral spray to treat spasticity associated with multiple sclerosis. Sativex, though used in many countries, isn't approved for use in the United States.
GW executives claim that an "approved pharmaceutical" should be favored by doctors and patients because other medicinal cannabis products haven't gone through the same testing.
An additional factor, and possibly the overriding one, is that Big Pharma companies have, for years, been enviously eyeing the profits reaped by the up-until-now Mom and Pop medical marijuana industry, and have been seeking ways to re-channel that money into corporate coffers.
The current plan seems to be to have marijuana declared a Schedule II or III drug, making it available for prescriptions, but still under the tight control of the DEA, effectively diverting what up until now have been medical marijuana profits which stayed in the community into Big Pharma's pockets.
"My kid's stable. I'm not touching it," said Allison Ray Benavides, whose 6-year-old son, Robby, is using Charlotte's Web, to which a little of the psychoactive component THC is added. (THC greatly increases the effectiveness of CBD, the so-called "Entourage Effect.")
"I don't need a double-blind placebo-controlled study to know something," Benavides said, while nonetheless welcoming the Epidiolex trial results.
It comes as no great surprise to anyone that the Big Pharma "replacement" is much, much more expensive than what you'd get from a medical marijuana dispensary.
Analysts expect Epidiolex to cost $2,500 to $5,000 a month, which would be outrageously more expensive than some of the medical marijuana products, which cost as little $100 a month, and sometimes up to $1,000 per month.
However, Epidiolex might be covered by insurance, unlike the other products -- which, of course, makes not only Big Pharma happy, but the rapacious medical insurance industry, as well.
Photo: GW Pharmaceuticals