U.S.: Company Offers BernOneDown.com Website Domain For $150K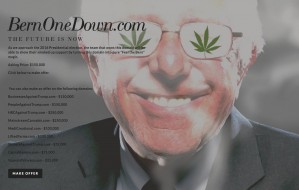 By Steve Elliott
Hemp News
The website domain name BernOneDown.com is on the market for sale, a Denver-based company announced on Friday. The asking price is $150,000.
Todd Mitchem Companies announced it is selling off that domain and several more of their cannabis related domain names such as MainStreamCannabis.com, VapeAndVinyasa.com, and PeopleAgainstTrump.com.
Todd Mitchem, CEO of TMC, believes the BernOneDown domain will be one of the company's biggest hits yet.
"We all sat around and just realized it was time," Mitchem said. "We have been storing many domains for a long time and with Bernie's latest successes and the fact that he moves to Northern states with a path to the nomination, we knew now was the time to sell this domain to a team that will want to do something amazing and special with it."
Mitchem's team, which developed such brands as High There!, CannaSearch, Mindful, and IONvape.com (clean vape technology for the e-cig industry), believes the BernOneDown.com domain will go fast, and they believe it will resonate with people.
"Cannabis is going mainstream and Bernie's view on legalization is proof that it is time to offer his supporters a great domain to utilize," Mitchem said.
To find out more about this domain, visit www.BernOneDown.com.