U.S.: Emergency National Mobilization April 2 To Reschedule Cannabis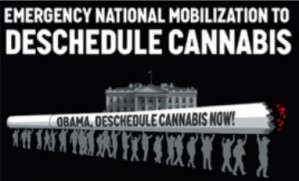 Citizens, Activists and Leaders Rally and Roll Up to the White House with 51 foot "Joint" on Saturday, April 2 at 2 p.m.
Mass Consumption of Cannabis to Occur at 4:20 p.m.
On Saturday, April 2 at 2 p.m., DCMJ — the organization that played a critical role in passing Ballot Initiative 71, which legalized marijuana in our nation's capital — along with leaders, activists, advocacy groups and citizens will gather along Pennsylvania Avenue directly north of the White House to demand that President Obama use his authority to reschedule cannabis now.
Why on April 2? According to the organizers, the Obama Administration has been a big ZERO on cannabis reform, so DCMJ is rescheduling and actively removing the "ZERO" from "4/20."
DCMJ has officially requested that President Obama reclassify cannabis as a less harmful substance multiple times since he has taken office in January 2009. However, no action has been taken to reschedule cannabis to date.
Meanwhile, the placement of cannabis in the same category as drugs like heroin — which kills thousands of Americans each each year — remains not only irresponsible, unjust and unfitting, but also makes a continued mockery of the Controlled Substances Act.
On Saturday, April 2 at 4:20 p.m. in response to the Obama Administration's lack of action on descheduling cannabis, Americans will gather at The White House to demand immediate action is taken. Event participants will also help to carry a 51 foot "joint" at what is being called the "Emergency National Mobilization to Reschedule Cannabis."
DCMJ officials said they are still willing to call off this mass-consumption of cannabis should President Obama agree to a responsible and ethical dialogue at a Cannabis Summit, which would bring together leaders from a broad spectrum of industries to openly discuss more effective drug policies, drug classifications and approaches to the failed "War on Drugs" passed down and inherited by the Obama Administration.
"While President Obama may have inherited failed drug policies, he also has an obligation to address these failures in a meaningful and responsible way," said Adam Eidinger, founder of DCMJ. "As we approach the twilight of his administration, we are calling on President Obama to take immediate action before it is too late.
"President Obama's overall apathy on the issue only enables countless men of color and others to be needlessly incarnated, medical research to be placed on hold for no good reason and the classification of cannabis as a Schedule I drug to carelessly continue," Eidinger said. "The real crime here is the President's inaction and frankly, the American people deserve -- and thought they elected -- better. These injustices must stop now before more lives are ruined and the immoral imprisonment for cannabis-related crimes continues."
WHO: Speakers from DCMJ, cannabis advocacy groups, industry activists, civic leaders
WHAT: Emergency Mobilization to Reschedule Cannabis Demonstration, including 51 foot Joint
WHEN: Saturday, April 2 at 2 p.m.
**Note: At 4:20 p.m. there will be a mass consumption of cannabis.
WHERE: Along Pennsylvania Ave. located directly north of the White House between 15th and 17th Streets, Washington, D.C.
WHAT YOU CAN DO:
• Join mass mobilization on 4/2 along Pennsylvania Ave. located directly north of the White House between 15th and 17th Streets, Washington, D.C.
• Click "Going" and invite your friends on DCMJ Facebook page
• Tweet with the hashtag #Reschedule420
• Call The White House 202-456-1111 and tell President Obama to deschedule cannabis
• Forward the news to your friends
• Volunteer with DCMJ on 4/2 to help things run smoothly