U.S.: Gary Johnson Predicts Obama Will Take Marijuana Off Schedule I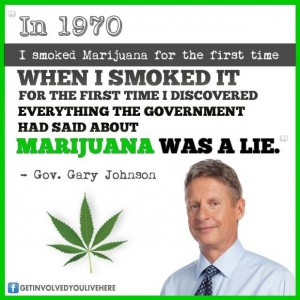 By Steve Elliott
Hemp News
Former New Mexico Governor and 2016 Libertarian Presidential candidate Gary Johnson on Tuesday said he thinks President Barack Obama, on his way out of office, is going to reschedule marijuana, taking it off the federal government's Schedule I list of narcotics considered the most dangerous of all drugs.
"It's going to be just like alcohol," Johnson told David Sherfinski of The Washington Times. "I'm going to predict that Obama, when he leaves office, is going to deschedule marijuana as a Class I narcotic. I wish he would have done that to this point, but I think he's going to do that going out the door. That's a positive."
Marijuana is currently on the Schedule I list with heroin and LSD. Methamphetamine, cocaine, and oxycodone, on Schedule II, are both officially considered safer than cannabis by the United States federal government.
Democratic Presidential candidate Hillary Clinton wants to reschedule marijuana as a Schedule II drug, effectively handing control of it over to Big Pharma. Her opponent for the Democratic nomination, Bernie Sanders, wants to deschedule cannabis entirely, taking it off the list of controlled substances, and leave its regulation up to the states.
Johnson's campaign followed up his statement by clarifying that the former Governor would p[refer that Obama remove marijuana entirely from the controlled substances list, allowing states to legalize and regulate as they and their voters choose.
But the campaign admitted that most discussion and a more likely next step would be reclassifying it to Schedule II, which would allow doctors to officially prescribe it rather than just "recommend" it as they are forced to do under the current system.
President Obama has deferred to Congress on reclassifying marijuana.
"What is and isn't a Schedule I narcotic is a job for Congress," Obama claimed in a 2014 interview with CNN. "It's not something by ourselves that we start changing … no, there are laws undergirding those determinations."
But the Attorney General and the Secretary of Health and Human Services are empowered to get rescheduling done without further legislation under the Controlled Substances Act, according to Tom Angell, chairman of Marijuana Majority.
"It's tough to predict what the president will do on this issue before he leaves office, but if he's willing to uphold his pledge to set policy based on science, and he listens to the majority of Americans who support marijuana reform, he will exercise his administrative authority for rescheduling," Angell said.
Graphic: Keri Guthrie/Pinterest