Colorado: Military Veteran Gives Away Free Marijuana To Fellow Vets For PTSD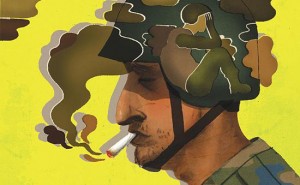 By Steve Elliott
Hemp News
A Colorado Springs cannabis club headed by a military veteran is handing out free marijuana to other veterans, hoping to give them relief from issues like post-traumatic stress disorder (PTSD) for chronic pain they suffer after returning home from war zones.
The Veteran Farmers Alliance over the weekend gave away more than a half-pound of weed, along with cannabis edibles, worth about $1,400, to veterans at the Dab Lounge, reports RT.com. Founder Steve Defino said other groups should be doing the same thing, and that cannabis was essential for him to deal with his PTSD, which he has battled for more than a decade.
Defino said he was prepared to spend nearly 20 times the amount he spent on Saturday at a followup event planned for Veteran's Day in November, reports Andrew Blake at The Washington Times.
"I've seen other organizations operate, and I'm not very happy with the way they do it," Defino said in an interview with KXRM. "They need to be donating more and doing more to show these guys that they actually care."
"I've been able to actually go through my memories, recall my memories without getting upset anymore, and I'm starting to live my life again like a normal person," Defino said.
Defino said cannabis could be especially helpful to veterans who may feel close to suicide, because even though the impact of marijuana is short-lived, it enables veterans to gradually interact with and re-enter the community.
"I've talked to guys that are ready to kill themselves," Defino said. "They're ready to take their own life because they feel like nobody is there for them. So this is a small way to say thank you for what you've done," he said.
One Iraq War veteran at Saturday's event said that pot has helped him get some much-needed rest since he started using it three years ago. Prior to that, he said he could go days without sleeping.
"This saves lives," Defino said. "This will take [the depression or anxiety] off their mind, at least temporarily, until they can find some more permanent help or relief."
Increasing numbers of veterans are turning to cannabis to treat their PTSD, and the state of Colorado is funding two studies into the issue. The state has held off on approving medical marijuana for PTSD until it has more data.
Veterans are twice as likely as other Americans to suffer an overdose, according to a study published by the National Center for Biotechnology Information. In just five years, between 2010 and 2015, opioid-use disorders rose by 55 percent, according to PBS Frontline. While the VA is attempting to cut back on prescribing opioids, marijuana (which of course hasn't ever killed anyone) still isn't being properly utilized.
Graphic: Kottonmouth Kings