U.S.: Obama Grants Clemency To 61 People In Prison For Drug Offenses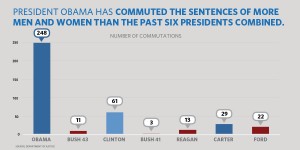 Clemencies Come As Advocates Push Mitch McConnell on Sentencing Reform
Drug Policy Alliance: The President is Acting; Congress Must Step Up Too
President Barack Obama on Wednesday commuted the sentences of 61 people incarcerated in federal prison for drug offenses.
This follows the commutation of 95 people in December, 2015, 45 people in July of that year, 22 people in March 2015, and 8 people in December of 2014. All of those who received commutations Wednesday were serving time in prison for nonviolent drug offenses, and many were victims of the disparity in sentencing between crack and cocaine.
To date, the President has now commuted the sentences of 248 individuals – more than the previous six Presidents combined. And, in total, he has commuted 92 life sentences.
"The power to grant pardons and commutations… embodies the basic belief in our democracy that people deserve a second chance after having made a mistake in their lives that led to a conviction under our laws," President Obama wrote in a letter to the 61 individuals receiving clemency on Wednesday.
The President cautioned those receiving clemency that what they do with this unexpected opportunity reflects not only on each individual person, but also on all those still behind bars who are seeking the same shot at a new life.
President Obama has been under significant public pressure from advocacy groups and family members of people incarcerated for nonviolent drug offenses who are serving long, mandatory minimum sentences.
"Underscoring his commitment not just to clemency, but to helping those who earn their freedom make the most of their second chance, the President will meet today with commutation recipients from both his Administration and the previous administrations of Presidents George W. Bush and Bill Clinton," reads a March 30 press release from the White House. "During the meeting, the commutation recipients will discuss their firsthand experiences with the reentry process and ways that the process can be strengthened to give every individual the resources he or she needs to transition from prison and lead a fulfilling, productive life."
"The President is using his constitutional power, but he can only do so much," said Michael Collins, deputy director at Drug Policy Alliance's office of national affairs. "There is legislation in the Senate that would reduce mandatory minimums and have a greater impact on the prison population, and Leader McConnell needs to bring the bill up for a vote."
The Sentencing Reform and Corrections Act, spearheaded by Judiciary Committee Chairman Chuck Grassley (R-IA), includes reductions in mandatory minimum sentences for drug offenses, an expansion of the federal "safety valve" (which allows judges to use their discretion to sentence people below statutory mandatory minimums), and will expand prison programming and early release, among other things.
A similar bill, championed by Bob Goodlatte (R-VA), was introduced in the House. Both bills have strong bipartisan support, and are awaiting floor action.
In the House, Paul Ryan, has promised that there will be a vote soon on criminal justice reform legislation. McConnell is yet to commit to action.
As the nation is calling for a more compassionate response to people struggling with addictions, advocates are pushing the Obama administration and Congress to right the wrongs of failed drug war tactics.
"I am gratified that President Obama continues to use his powers to release individuals who deserve to have a second chance at life," said Anthony Papa, media relations manager for the Drug Policy Alliance (DPA), who was granted clemency in New York State in 1997 after serving 12 years under the notorious Rockefeller Drug Laws for a first-time nonviolent drug offense.
"These horrific drug sentences have destroyed hundreds of thousands of lives, overwhelmingly people of color, and it's time Congress righted these wrongs," Papa said. "We need to bring our brothers and sisters home now. "
"Despite the progress we have made, it is important to remember that clemency is nearly always a tool of last resort that can help specific individuals, but does nothing to make our criminal justice system on the whole more fair and just," reads Wednesday's White House press release. "Clemency of individual cases alone cannot fix decades of overly punitive sentencing policies. So while we continue to work to resolve as many clemency applications as possible – and make no mistake, we are working hard at this – only broader criminal justice reform can truly bring justice to the many thousands of people behind bars serving unduly harsh and outdated sentences."
"This is no longer a partisan issue: Republicans and Democrats agree that many sentencing laws are outdated and unnecessarily harsh," the White House press release reads. "We are continuing to work in bipartisan fashion to secure those much-needed, long-overdue reforms in Congress so that thousands more deserving individuals may benefit from the second-chance that these individuals earned today.
Building on this conversation, the White House on Thursday, March 31, will host a briefing titled "Life After Clemency" with advocates, academics, and Administration officials to discuss and share ideas on the President's clemency initiative and ways to improve paths to reentry. In addition to officials from the White House and the Department of Justice, experts, academics, and commutation recipients will share their expertise and insights on returning to society after years behind bars. To watch the briefing live, tune in tomorrow, Thursday, March 31, at 2:00 PM EDT at www.whitehouse.gov/live.
List of those granted commutations by President Obama, March 30, 2016
Graphic: The White House