New York: Victims of Drug War Protest Wells Fargo For Profiteering Off Racist Policies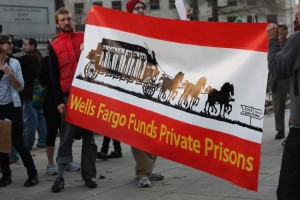 Ahead of major United Nations meeting on global drug policy, weekly protests call for drug war policies to be replaced by a public health and human rights approach to drug use
WHAT: Protest Wells Fargo Bank for being a major investor in Private Prisons Behemoth Corrections Corporation of America (CCA).
WHEN: This Friday, April 1st at 11 a.m.
WHERE: Wells Fargo at 150 E 42nd St.
Details: People with a history of drug use, the formerly incarcerated and people living with AIDS, all identifying as "victims of the Drug War," will protest Wells Fargo for investing in Corrections Corporation of America (CCA), the largest private prison company in the United States. CCA has been criticized for its poor treatment of prisoners, lobbying efforts to limit oversight and regulation of private prisons, cooperation with law enforcement in school drug sweeps and more.
Protestors will attempt to block traffic with a banner reading "Wells Fargo: Just Say No to Private Prisons"
The Wells Fargo protest is the third in a series of actions leading up to the April 2016 United Nations General Assembly Special Session on the World Drug Problem (UNGASS), the biggest global drug policy meeting in over a decade and a crucial moment for confronting the disastrous global war on drugs. For more on UNGASS and international movement for reform, visit www.StopTheHarm.org.
VOCAL-NY demonstrated at the Drug Enforcement Agency for its role in in perpetuating the worst of drug war policies; global violence, anti-science misinformation and mass incarceration. Read more here and see coverage in the Daily News and The Influence. They also protested the Russian government's anti-harm reduction policies, which have led to a massive increase in new HIV infections, as well as AIDS-related deaths. Read more here.
VOCAL-NY is organizing weekly actions every Friday before UNGASS.
Protest of China's drug war and use of death penalty for drug offenses
When: Friday, 4/8 @ 11AM
Where: Chinese Consulate
Protest at NYC Criminal Court
Message: End the Drug War in NYC and close Rikers Island
When: Friday, 4/15 @ 11AM
Where: NYC Criminal Court 100 Center St.
Photo: Libcom.org