Nevada: Information Session Set For Seniors and Veterans on Medical Marijuana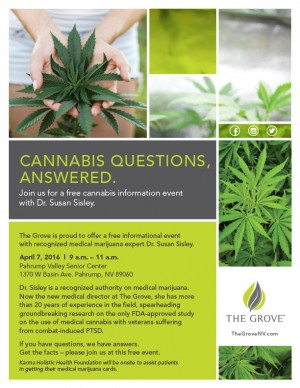 The Grove's Medical Director Dr. Sue Sisley, nationally recognized cannabis expert, discusses treating ailments & diseases with medical cannabis
Dr. Sue Sisley, renowned medical cannabis researcher and expert, will lead an information session on medical cannabis and its potential for treating a variety of ailments and diseases. This discussion will take place on Thursday, April 7, at the Pahrump Senior Center.
"Information will be presented to seniors and veterans who want to learn about the benefits of medical marijuana, especially if they have a condition that could make them eligible," Dr. Sue Sisley said. "We will also provide resources for obtaining your medical marijuana card."
Dr. Sisley is the medical director for The Grove. She is also a member of the Nevada state medical marijuana commission (ILAC). Her 20-year work with veterans has been noted as groundbreaking. She is the SITE principal investigator for the only FDA-approved research using whole plant medical cannabis, which studies the risk and benefits of cannabis for combat veterans with treatment resistant post-traumatic stress disorder (PTSD).
Karma Holistic Health Foundation will be on site to walk applicants through the process of getting a medical marijuana card. This session is free and open to the public.
WHEN: Thursday, April 7, 9 a.m. to 11 a.m.
WHERE: Pahrump Senior Center
1370 W Basin Ave.
Pahrump, Nevada 89060