Israel: Australian Premier Visits, Learns About Israeli Cannabis Scene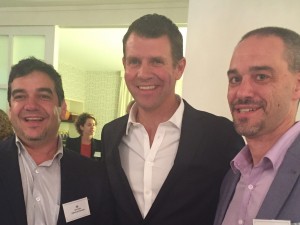 Israel-Cannabis.com's co-founder, CEO Saul Kaye met this week with Australian Premier Mike Baird and the Australian trade mission currently in Israel. Kaye highlighted iCAN's involvement in medical cannabis clinical trials and plant based research via iCAN's partnership with Breath of Life (BOL) Pharma. The two companies recently partnered to form the first private Cannabis R&D center in Israel.
"As a company in Israel with two Australian founders, I was especially honored to have the opportunity to present our initiatives in front of Premier Mike Baird and the Australian mission," Kaye said. "The mission visit comes fresh off our CannaTech global innovation summit as we are looking to collaborate on research and development initiatives to advance medical cannabis and further Australia's entrance into a responsible medical cannabis program."
Baird, the Premier of Australia's New South Wales district which encompasses Sydney and has a population of about 7.7 million inhabitants, is one of Australia's leading proponents of legalizing medical cannabis in his country and could be on the cusp of leading historic legal reform as clinical trials have begun.
The Australian mission has come to Israel to explore opportunities for collaboration for New South Wales in innovation, science and technology and learn from Israel's experience in entrepreneurship and start-ups. iCAN has already started collaboration efforts, forming relationships with BuddingTech (an Australian company) and MGC Pharmaceuticals (an Australian company with Israeli founders) who both contributed to Australia's first medical cannabis white paper: "Medicinal Cannabis in Australia: Science, Regulation & Industry."
About iCAN Israel-Cannabis
iCAN Israel-Cannabis is actively engaged in identifying and accelerating cannabis technologies in Israel. iCAN Israel-Cannabis has partnered with both public and private entities. iCAN is the creator of the CannaTech International Summit for Accelerating Cannabis Innovation which hosted more than 450 participants from 28 countries to bring the global lCannabis researchers together with investors from around the world. To learn more about iCAN Israel-Cannabis go to www.Israel-Cannabis.com.
Photo: iCAN founders Saul Kaye and Jason Ryker with NSW Premier Mike Baird