U.S.: Detailed Forecast Released For 4/20 In Colorado And Washington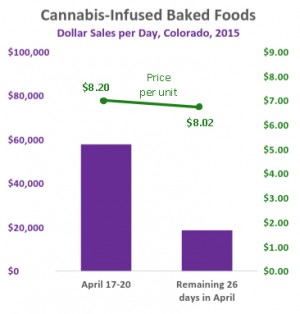 Hallmark hasn't leveraged its formidable marketing muscle to promote 4/20 — not yet, at least. Nevertheless, an analysis by a cannabis industry source of data intelligence finds that April 20 and the days surrounding it have clearly, and emphatically, emerged as the cannabis industry's principal holiday, with dramatically boosted sales.
One thing 4/20 has in common with more traditional holidays like Halloween and Valentine's Day — lots and lots of candy!
BDS Analytics' close analysis of cannabis sales during last year's festivities, based on hundreds of thousands of retail transactions worth millions of dollars in Colorado and Washington, draws a range of fascinating 4/20 conclusions. Among them:
• The four days leading up to, and including, 4/20 in Colorado captured three of the most lucrative cannabis sales days during all of 2015.
• Washington's sales were less dramatic, at least when compared to the months following 4/20. But 4/20 sales did spike, and BDS Analytics anticipates sales this year tripling or even quadrupling last year's numbers.
• Sales in Colorado this year should exceed $5 million per day from Friday, April 15 to Wednesday, April 20. One of the days should exceed $6 million.
• Edibles — here we go with that candy — received a sweeter 4/20 boost than flower in Colorado. Look for puckered-up consumers as sour gummies take top share in candy sales this year.
• Candy bars' selling price in Colorado increased the most last year, vaulting 4 percent from $15.62 during the rest of April to $16.27 per unit during 4/20.
• Flower in Colorado commanded $5.77 per gram during 4/20, a 13 percent drop from $6.67 in the rest of April.
• Colorado should harvest about $4.5 million in cannabis sales tax revenue during this season's six-day celebration.
In 2015, April 20 fell on a Monday, and that day combined with the three preceding days—Friday through Sunday—constituted April's four busiest days for Colorado cannabis sales and three of the year's top 10 days. Those four days' retail take of just over $4 million per day exceeded the rest of the month's $2.2 million-per-day average by 80 percent.
Every category except the most obscure (cannabis-infused culinary butter, massage oil) saw per-day 4/20 sales rise significantly above the rest of April. Those with the largest increases suggest 4/20 revelers took advantage of the holiday atmosphere to venture into less familiar territory.
Cannabis-infused baked foods, drinks and candy bars saw daily sales triple their non-4/20 April averages. Baked foods rose from $19,000 per day to $58,000.
Flower, the industry's name for marijuana's recognizable green buds, is in general the best selling product with 63 percent share of total cannabis revenue. Over the four-day 4/20 weekend in 2015, flower's per-day sales were 70 percent greater than during the rest of April, a significant increase, but less than the 80 percent average of all products. Flower share dropped 4 points to 59 percent in those four days.
"It is clear that enthusiasts steered some cannabis dollars away from smokable offerings to experiment with new ways to consume," according to BDS Analytics' report.
"We knew, of course, that 4/20 is a retail bonanza for cannabis brands, dispensaries, grows and more," said BDS Analytics founder and CEO Roy Bingham. "Our data reveal its powerful impact. Most cannabis businesses should benefit from 4/20, and our GreenEdge™ technology helps them plan for the holiday and beyond."
Graphic: BDS Analytics