Arizona: Drive For Initiative To Regulate Marijuana Like Alcohol Reaches 200K Signatures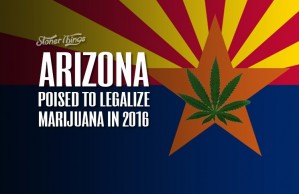 The campaign needs to collect 150,642 valid signatures of Arizona voters to qualify for the November ballot
The Campaign to Regulate Marijuana Like Alcohol on Tuesday announced it has collected more than 200,000 signatures in support of a proposed initiative to end marijuana prohibition in Arizona. The campaign needs to collect 150,642 valid signatures of registered Arizona voters to qualify the initiative for the November ballot.
"Voters want to have their say on whether Arizona should end marijuana prohibition," said Campaign Chairman J.P. Holyoak. "It's appearing more and more likely that they are going to have that opportunity. We're finding that most Arizonans agree marijuana should be regulated and taxed similarly to alcohol."
The proposed initiative would allow adults 21 and older to possess limited amounts of marijuana, establish a system in which marijuana is regulated similarly to alcohol, and enact a 15 percent tax on retail marijuana sales, from which a majority of the revenue would be directed to Arizona schools and public education programs.
"The level of interest in signing our petition seems to grow as people learn more about marijuana and the specifics of the initiative," Holyoak said. "The simple truth is that marijuana is less harmful than alcohol, and marijuana prohibition has been just as big of a failure as alcohol prohibition. Arizonans think it's time for a more sensible approach, and that's exactly what we're proposing."
For more information, visit http://www.RegulateMarijuanaAZ.org.
Graphic: StonerThings.com