California: Chong's Choice Cannabis Collection Rolls Out In Dispensaries On 4/20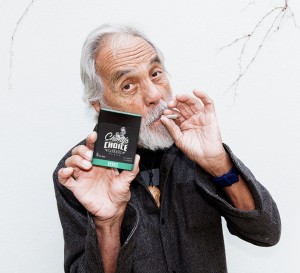 By Steve Elliott
Hemp News
Another celebrity-endorsed cannabis brand will hit 25 California medical marijuana dispensaries on 4/20.
Chong's Choice, "a collection of high grade medical cannabis products hand-selected by the legendary comedian, activist and cannabis enthusiast Tommy Chong," will roll out on April 20, marking the official launch of the brand, which includes a full product assortment.
"Using the highest quality of standards, Tommy Chong meticulously chooses each product and strain offered at Chong's Choice from premium farmers around California," we are told in a Wednesday media release. "This assortment includes traditional Flower Jars of locally grown, high grade Indica (Chong Daddy Purple), Sativa (My Friend Jack), and Hybrid (Choice OG Kush), along with Oil Cartridges with award-winning THC oil, convenient Disposable Vape Pens and 5-Pack Pre-Rolls, as well as edible THC-Infused Breath Strips."
Alsop included in the "Chong's Choice" line of products are 5-pack pre-rolls, oil cartridges "using award winning cannabis oil and state of the art CO2 extraction methods," and THC strips, available in single-strip mylar bags, as well as multi-strip cartridges.
As half of the legendary comedy duo Cheech & Chong, Tommy helped usher in a completely new brand of comedy directed at the marijuana-centered counterculture movement of the early 1970s. He's entertained millions with his unique style of "stoner" comedy, embodying the culture both onscreen and off.
As an activist, Chong has supported the proliferation of medical marijuana, and the decriminalization of our sacred plant for decades. Now, using his lifelong connections in the industry, he's making it his mission to share his personal favorites of the most exceptional product available with his fans and fellow cannabis connoisseurs, according to Chong's Choice.
"Chong's Choice is much more than another celebrity-endorsed cannabis line," according to the company. "With his extensive background in activism to decriminalize medical marijuana, Tommy Chong's lifelong mission is finally coming to fruition to erase the outdated stigma around cannabis use, bringing the industry out of the shadows to shine a positive light on this medicinal miracle plant."
"My goal is to get Cannabis recognized by the American Medical Association as a viable medicine for various ailments, including Epilepsy, Alzheimer's, MS, and Cancer, and who knows what else," Tommy Chong said.
Chong's Choice will be the official flower sponsor for the private Weedmaps Coachella event this weekend, April 15-17 in Indio, California, where they will be sampling their product to an exclusive list of guests as part of brand's the official launch.