Massachusetts: Marijuana Initiative Backers' Campaign Highlights Alcohol Hypocrisy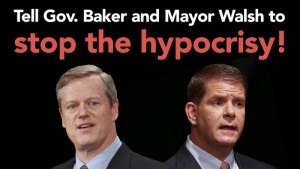 Backers of a ballot initiative to end marijuana prohibition in Massachusetts are launching a campaign Friday to highlight the hypocrisy of elected officials who oppose the initiative but promote the use of a more harmful substance — alcohol.
Leaders of the Campaign to Regulate Marijuana Like Alcohol held a news conference Friday morning in front of the Massachusetts State House. They showcased a large, provocative sign featuring their first two targets, Gov. Charlie Baker and Boston Mayor Marty Walsh, who just announced they have formed a committee to oppose the proposed initiative because they believe marijuana is too dangerous to regulate for adult use.
Baker has proposed legislation to loosen the state's liquor licensing regulations and expand the number of locations in which alcohol can be served. He also supported repealing the state alcohol tax and opposed a Boston alcohol tax. Walsh proposed legislation to allow bars and restaurants to serve alcohol until 4 a.m., providing an extra two hours of drinking time.
"Our public policies should be based on scientific evidence, and the evidence clearly demonstrates alcohol is more harmful than marijuana," said CRMLA Campaign Manager Will Luzier, who previously served as executive director of the Massachusetts Interagency Council on Substance Abuse and Prevention. "Marijuana is less toxic, less addictive, and less likely to lead to reckless and violent behavior.
"We want voters to be keenly aware of the blatant double standard being demonstrated by Gov. Baker and Mayor Walsh," Luzier said. "Fighting to keep marijuana illegal while simultaneously pushing to expand access to alcohol is the height of hypocrisy. More importantly, it is detrimental to the health and safety of the people of Massachusetts."
Change.org Petition: Stop Campaigning Against the Initiative to Regulate Marijuana Like Alcohol