Alabama: Governor Signs Leni's Law, Increasing Access To Medical Cannabis Oil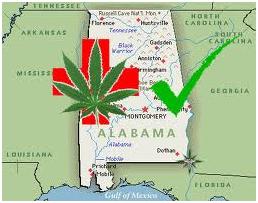 By Steve Elliott
Hemp News
Patients in Alabama will have greater access to medical cannabis oil after Governor Robert Bentley on Wednesday signed HB 61, also know as Leni's Law, as passed by the Alabama Legislature.
Gov. Bentley's signature decriminalizes possession of medical marijuana CBD oil with THC content of up to 3 percent. The bill is named for a four-year-old girl whose family moved to Oregon to legally access cannabidiol cannabis oil to treat her severe epilepsy, and was hailed as a victory by Leni's mother, Amy Young, reports Paul Gattis at Al.com.
"We are incredibly grateful to the state of Alabama for giving families like ours the opportunity to find relief from life altering and debilitating conditions, and hope for a better quality of life," Young told Hemp News Wednesday afternoon. "Access to medical treatment shouldn't be determined by your zip code."
"I've got this smile glued to my face," said Young, who revealed she'd already received calls from lawmakers in Iowa, South Dakota and Tennessee since the Leni's Law was signed.
Leni's Law allows Alabama residents to bring CBD oil back to the state for medical purposes when acquired elsewhere, providing an affirmative defense if they are arrested for doing so for . The oil has shown promising results for treating epilepsy, according to a study at the University of Alabama at Birmingham (UAB).
Gov. Bentley on Monday had said he was considering changes to Leni's Law; he was at that time considering requiring a doctor's "prescription" to use the oil, reports Chris Davis at WHNT. "No doctor in their right mind is going to recommend on paper to anyone of their patients anything that is illegal in the state," said Jody Mitchell, the mother of a child with chronic epilepsy and autism.
While Leni's Law doesn't outright legalize cannabis oil, it does provide an affirmative criminal defense for caregivers who administer the treatment to patients "with a chronic or debilitating disease or medical condition, including one that produces seizures for which a person is under treatment."
Mitchell not only takes care of her son, Robert; she cares for her mother-in-law who suffers from Alzheimer's Disease and no longer recognizes Jody's husband. "At one time, we did treat her with cannabis oil and she knew who he was," Jody said. The Mitchells stopped treatment because they feared the legal consequences. "It is important that we are allowed to speak to our doctors openly without fear of our children and loved ones being taken away from us," Jody said.
According to Leni Young's mother, Amy, since the family moved to Oregon 10 months ago, Leni has only had six seizures. Before using CBD oil, she had hundreds of seizures a day.
"They don't want to feel like criminals," said Senator Paul Sanford (R- Huntsville), who pushed for Leni's Law in the Alabama Senate, reports Lauren Walsh at ABC 33 40. "They know they need to try something like this."
Sanford pushed for the bill in the Senate, after meeting with families with children like Zach Hearn, 10, who suffers from a severe form of epilepsy and has dozens of seizures every week.
"We've never gotten to see what his true talent is, whether he likes to run or play ball or you know, we've never gotten to see him write his name, ride a bicycle," Zach's mother, Ceje Hearn, said. "Just getting to meet what his true personality as a child would be."
"I think we'll get to see him do some of those things," Hearn said. "I think we'll hear I love you. I think we'll see him riding a bicycle."
Leni's Law decriminalizes CBD oil up to 3 percent THC, for people with chronic or debilitating medical conditions. While only those who have seizures as a result of their medical condition are specifically mentioned and included, many legal analysts believe that patients with other debilitating medical conditions will be able to successfully use the affirmative defense, as well.
"Leni's law covers EVERYONE with a debilitating disease or condition, it is not epilepsy or seizures only," Young said on Wednesday.
Graphic: Medical Marijuana Blog