Vermont: Lawmakers Seen Drinking In Hallway Just Before Voting No On Marijuana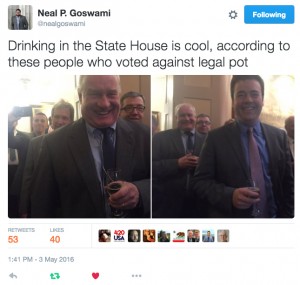 By Steve Elliott
Hemp News
When the Vermont House on Tuesday soundly rejected a Senate proposal to legalize marijuana and create a regulated retail market for it -- and even failed to decriminalize possession and cultivation of just two cannabis plants -- their unfortunate lack of political courage didn't shock many political observers.
What was a bit more upsetting, though, was that at least two of the politicians who voted "No" on legalization were seen (and photographed!) drinking alcohol in the hall shortly before the vote, according to multiple sources. Photos tweeted by reporter Neil Goswami depict Rep. Gary Viens (R-Newport) and Rep. Corey Parent (R-St. Albans City) enjoying alcholic beverages at the State House during a 15-minute recess from the marijuana debate.
"Drinking in the State House is cool, according to these people who voted against legal pot," Goswami tweeted.
Both Viens and Parent are widely grinning in the photos, apparently believing themselves to be quite clever in taking a drink in the hall before batting down a bill that would have treated marijuana similarly to alcohol.
"Both men voted to maintain the foolish, counterproductive prohibition of marijuana," the Vermont Coalition to Regulate Marijuana posted on Facebook on Wednesday.
"Nice drink you had in your hand, while 'working,' activist Scott Morin messaged to Rep. Viens. "Wh[y] thank you!!!" Rep. Viens responded unapologetically.
Drinking in the State House is cool, according to these people who voted against legal pot pic.twitter.com/o2KLfDMMMq

— Neal P. Goswami (@nealgoswami) May 3, 2016