Oregon: 17th Annual Global Cannabis March Kicks Off At High Noon In Portland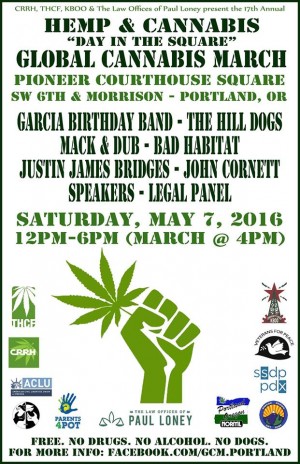 On Saturday, May 7, 2016, nearly 300 cities worldwide, including Portland, Oregon, will participate in the 17th Annual Global Cannabis March. Portland participants will gather in Pioneer Courthouse Square for a rally that begins at high noon, 12 pm, with a scheduled cannabis freedom march beginning at 4 pm through downtown.
Musicians Garcia Birthday Band, The Hill Dogs, Mack & Dub and the Smokin' Section, Bad Habitat, Justin James Bridges and John Cornett & Friends have joined the lineup for the rally. There will also be several guest speakers and non-profit organization booths.
We march to stand in solidarity for cannabis consumer rights. While marijuana may be legal under state law, it is still illegal under federal law. We march to effect change on the federal level. We march for the right of employees to use marijuana in their off hours, just as employees can consume alcohol in their off hours. We march so renters can consume marijuana in their own homes without fear of eviction.
We march so cities and counties do not impose onerous regulations which offer little protection to the consumer or the non-consumer of marijuana. These choices only drive the cost of marijuana up and allow the unregulated market to thrive.
We march to push for privacy protections for medical patients and users, smart and fair regulations, increased availability of expungement for those with prior marijuana convictions and decreased criminal penalties for the remaining marijuana crimes.
According to Anna Diaz of Parents 4 Pot, "Even though legalization is now a reality in Oregon, we have much work to do. We march to support our medical program, which we need to save from the legislature. We march to remove the stigma that responsible cannabis consumers suffer. We march to show solidarity with people in parts of Oregon who cannot march openly in support of marijuana. Portland is not like other parts of Oregon when it comes to marijuana."
"We march to remind the public that we still have prisoners of the drug war who need to be freed," Diaz said. "We march in remembrance of the warriors we have lost along the way. And we march to celebrate our hard-fought victories to show prohibitionists that we will continue this fight until our freedom is complete."
One of the march sponsors, Paul Loney of Loney Law Group, said, "Measure 91 was only the beginning. We need to protect the rights of renters, employees, and adult responsible users. Do we fire people for using tobacco or alcohol on the weekend? Do evict renters for brewing their own beer at home? If cigar bars are allowed, why not cannabis lounges? We march here to support those here in the US and around the world who cannot be public with their responsible use of marijuana."
According to Scott Gordon, the Executive Director of Portland NORML, "As issues like federal scheduling continue to suppress cannabis freedom nationally, it's important to maintain a grassroots level of activism such as participating in events like the Global Cannabis March."
The ACLU of Oregon's Legislative Director Kimberly McCullough spoke out in support of the march saying, "We continue to be involved in this effort because we want Oregon's experience with legal marijuana to be a successful model for other states so we can finally change federal policy."
To continue tradition, a bio-diesel bus has confirmed they will be offering free rides along the march route to the disabled. The bus will be parked nearby the Pioneer Square for boarding. There will also be ASL interpreters for the hearing impaired. Come out and have your voice heard!
Who: Nearly 300 cities worldwide, including Portland, Oregon, will participate in the annual Global Cannabis March.
What: 17th Annual Global Cannabis March
When: Saturday, May 7, 2016 - 12:00pm-6pm (March at 4pm!)
Where: Pioneer Courthouse Square - 701 SW 6th Avenue, Portland, OR 97204
Why: To bring an end the failed war on cannabis!
For more information, http://facebook.com/gcm.portland
Facebook event Page: https://www.facebook.com/events/1682927788591727/
Several speakers will be available to speak with the media during the event.
-------------------------------------------------------------
Event Schedule, As of 5-4-16
(Emcee Scott Gordon, Portland NORML)
12:00-12:05 pm - Opening Ceremony - Bonnie King - Dedicated to Dr. Phillip Leveque
12:05-12:30 pm - Band - John Cornett & Friends
12:30-12:35 - Kristin Flor, Voices of the Cannabis War
12:35-12:40 - Granny Patton, Patient Advocate
12:40-12:45- Bradley Steinman, Attorney
12:45-1:10 pm - Band - Justin James Bridges
1:10-1:15 - Eric Lewallen, CRRH
1:15-1:20 - Madeline Martinez, WFCC
1:20-1:25 - John Lucy IV, Attorney
1:25-1:30 - Jessie Sponberg, Portland Mayoral Candidate
1:30-1:55 pm - Band - Bad Habitat
1:55-2:00 - Scott Gordon, Emcee
200-2:05 - Lindsey Rinehart, Activist
2:05-2:30 pm - Band - Mack & Dub
2:35-2:40 - Rachel Kurtz, Portland NORML
2:40-2:45 - Anna Diaz, Parents 4 Pot
2:45-2:50 - Oregon State Treasurer Ted Wheeler, Portland Mayoral Candidate
2:50-2:55 - TBA
2:55-3:00 - Leland Berger, Attorney
3:00-3:30 pm - Band - The Hill Dogs
3:35-3:40 - Paul Loney, Oregon Marijuana Law
3:40-3:45 - Jenifer Valley, Candidate Clackamas County Commissioner 3, Stoney Girl Gardens
3:45-3:50 - Keynote Speaker - Elvy Musikka, Federal Medical Marijuana Patient
3:50-3:55 - Keynote Speaker - Kimberly McCullough, ACLU Legislative Director
3:55-4:00 - Keynote Speaker TBA
4:00-4:30 pm - March Through Portland
4:30-4:35 - Keynote Speaker TBA
4:35-4:40 - Keynote Speaker TBA
4:40-6 pm - Band – Garcia Birthday Band